Fascinating and effective, we're excited to introduce Mono Threads skin tightening and rejuvenating treatment to SILK clinics across Australia!
First things first, what are Mono Threads?
Made from a dissolving material called polydioxanone (PDO), Mono Threads are smooth fine threads inserted into your skin via tiny needles. They are all about skin tightening and rejuvenation, designed to stimulate your body's natural collagen production. Mono Threads are recommended in our clinics as they offer a skin tightening result that can't be achieved using anti-wrinkle injections or dermal filler.
You might have seen Eva Mendes not that long ago post a selfie to Instagram mid-Mono Threads treatment with several little pink tubes sticking out from underneath her jawline? Well, attached to the other end of those pink tubes are needles, directing individual dissolvable threads into the skin beneath her jaw.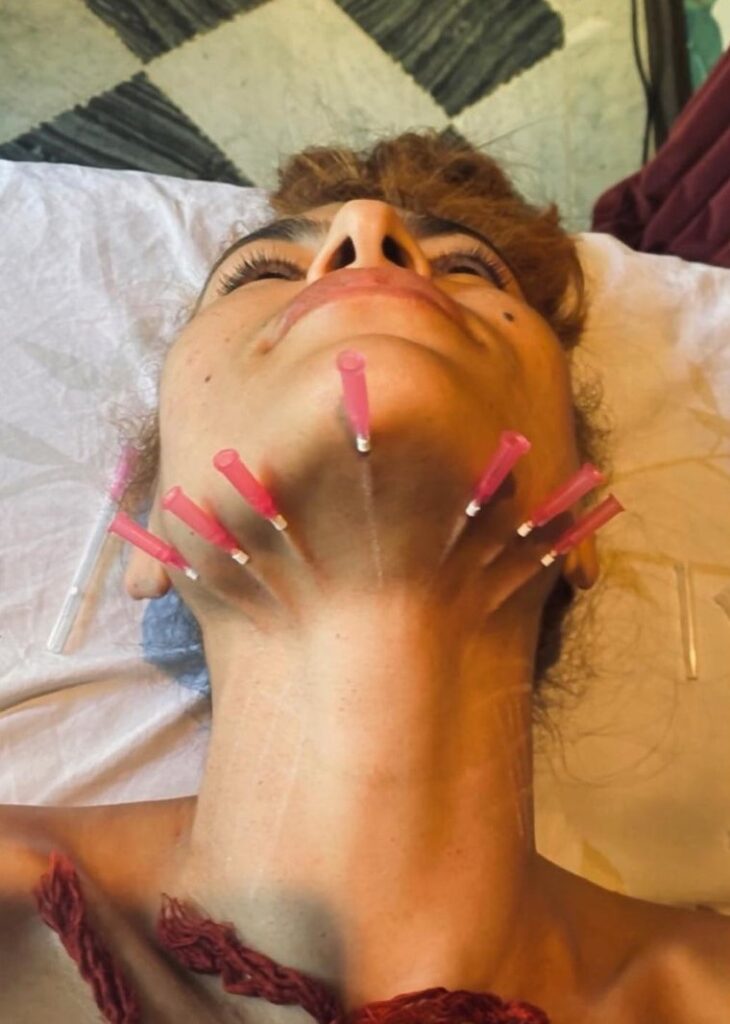 How do Mono Threads work?
As Mono Threads enter your skin, disrupting skin tissue, fresh collagen forms around the threads. Whilst the threads dissolve, the collagen continues to grow, rejuvenating the treated areas, leaving your skin feeling tighter and in turn looking youthful.
At SILK, we use Mono Threads to treat areas of the lower face including neck, chin, jawline, cheeks, accordion line weakness, nasolabial folds, marionettes and jowls.
Threads start to dissolve around the three-month mark and collagenases gets underway, regenerating elastin, promoting skin rejuvenation, improving sagging skin and accelerating skin metabolism.
You will start to see results around three months after treatment and they will fully develop within six months. You will find that results last around 12 months.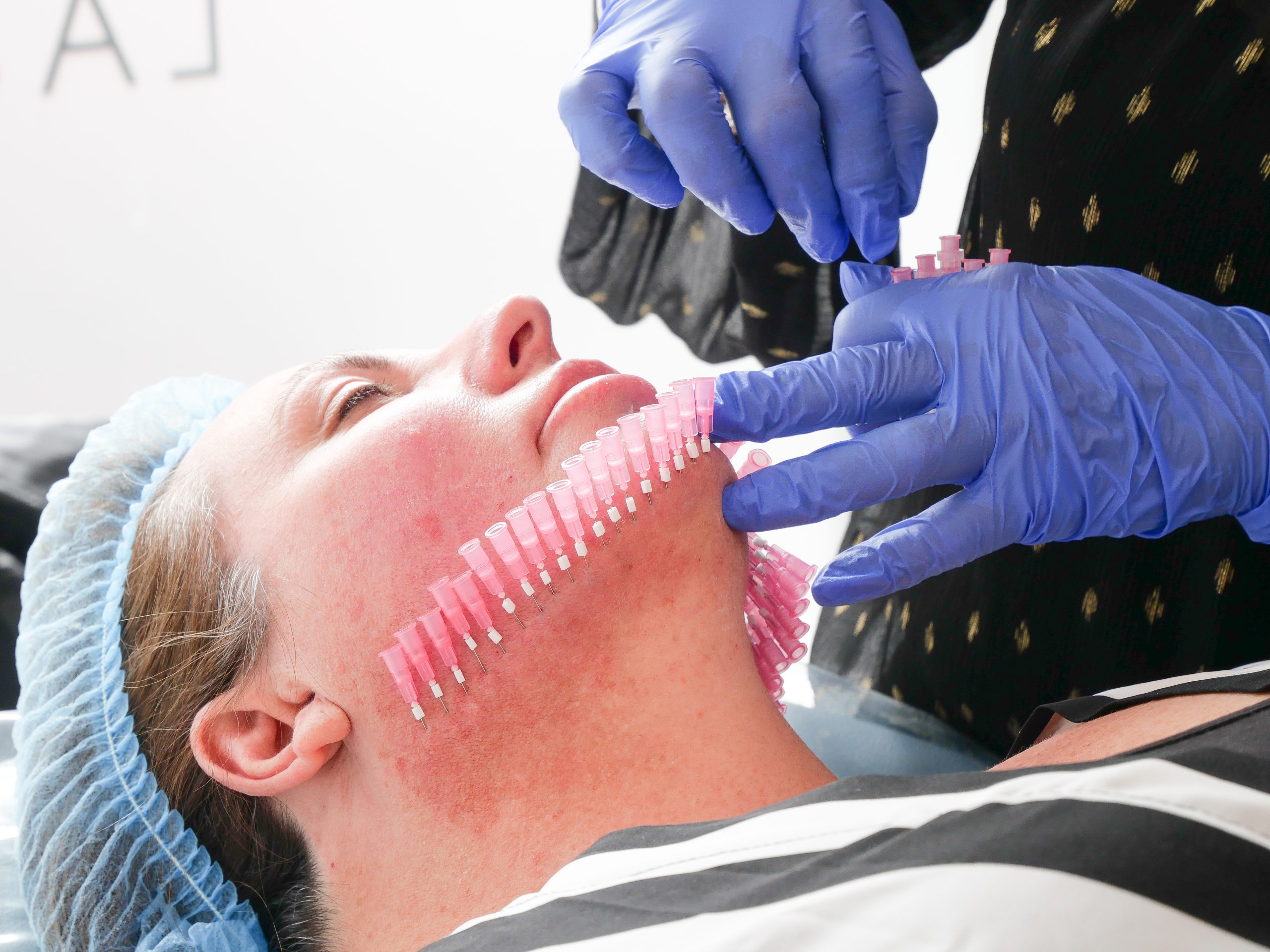 I'm interested in having Mono Threads – what is the process?
Mono Threads treatment is provided by SILK nurses who are fully qualified in the technique.
Your selected area will be numbed using a topical anesthetic which works wonders to minimise any discomfort. During treatment, you may feel a little sting or you may feel no pain at all. The nurse will mark out the area prior to inserting threads. The threads stay in your skin for around 5 -10 minutes.
There is minimal downtime. Post treatment, you might find that your skin feels a little tender. You may experience slight swelling and bruising in the days after treatment, which can last up to two weeks. Generally, this is very minimal, if visible at all, and can be easily covered with make-up.
Immediately after Mono Threads treatment, we recommend you lay under the LED yellow light to speed up the healing process. The LED light reduces inflammation which helps limit bruising or swelling.

Am I suitable for Mono Threads?
If you're wanting tighter skin then this could be the treatment for you. You will have a consultation with a SILK Registered Nurse who will assess your skin and discuss your goals. They will also check your medical suitability to proceed with treatment. Typically, if you are between the age of 35 – 55, you will see great results from Mono Threads.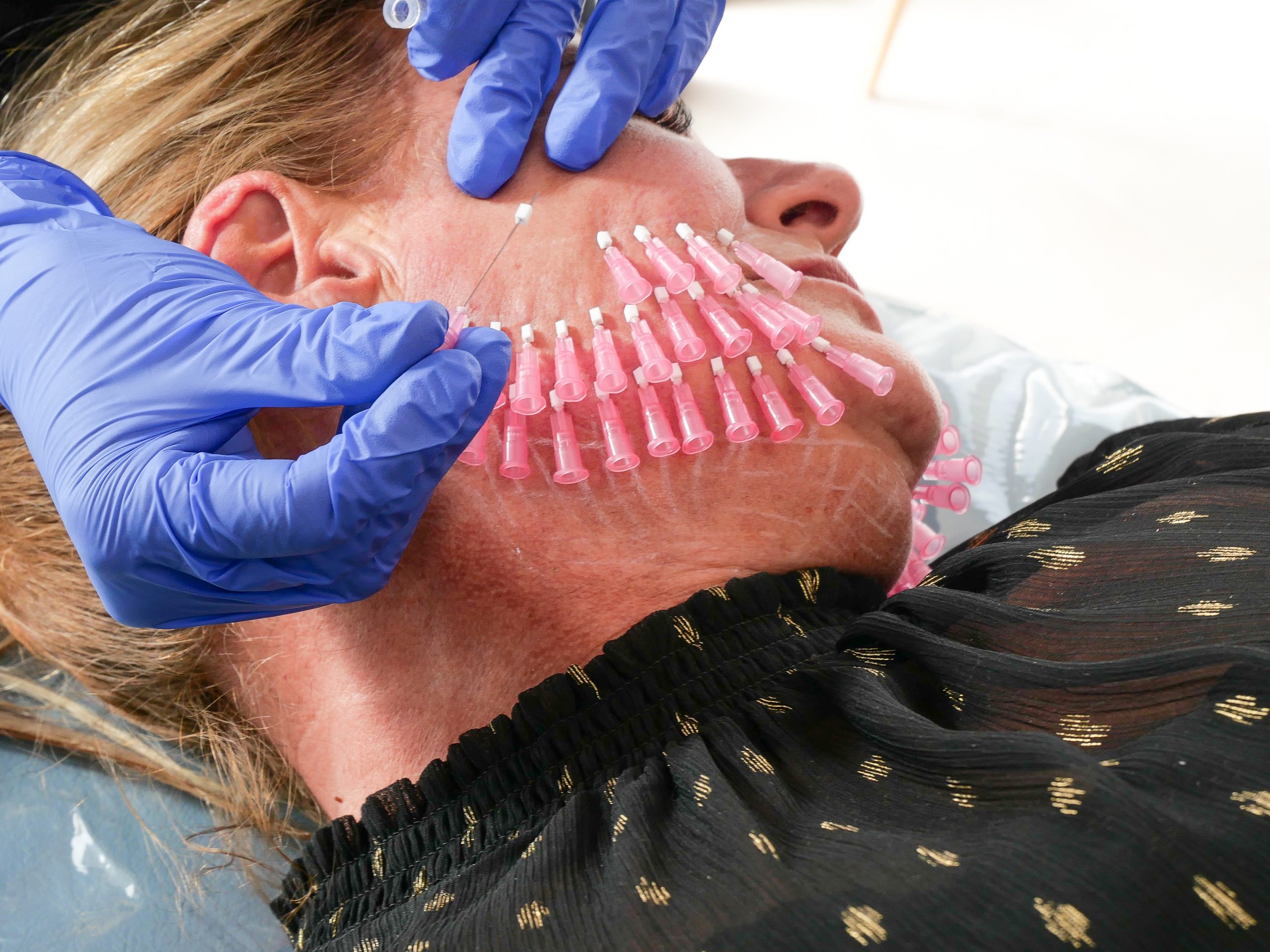 How much do mono threads cost?
50 threads cost $599.
100 threads cost $1150.
Add LED Light Therapy for $49.
You can tell why we are so excited about the newest injectables treatment at SILK Laser Clinics, Mono Threads! So, if you're after a minimally-invasive cosmetic procedure to tighten and rejuvenate your skin, click here to find out more about Mono Threads and book your free consultation today. Available at select SILK clinics across Australia.
See the results for yourself with our happy client below: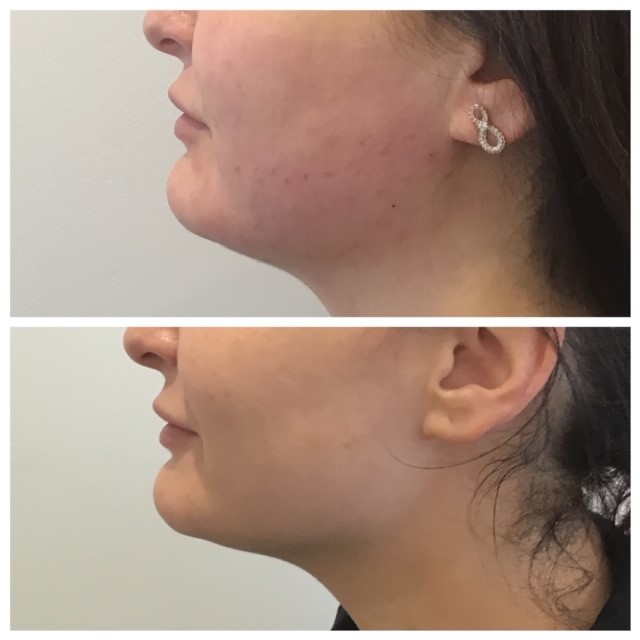 This client's goal was to tighten the skin around her jawline and underneath her chin. The final result shows the client's defined jawline and less sagging under her chin.