As a first time SILK client, I entered the Hyde Park clinic, very excited for my upcoming experience. Greeted by friendly faces, I was given an iPad to fill out my new client details. As a tech-savvy millennial, the iPad method of obtaining customer details impressed me, as did how thorough the questions were. From questions about skin type and concerns, to the current products I was using, I felt comfortable knowing I would be in very good hands at SILK – and I hadn't even met my technician yet! I could tell from the outset that SILK care about their clients and aim to understand their needs and wants to ensure they carry out the best treatments.
As a 27-year-old skin treatment novice, my consultation began with a skin analysis, followed by three back-to-back treatments; a microdermabrasion, infusion and LED Light Therapy. Spoiler alert: this is an amazing combo to start with!
My technician, Zoey, was helpful and patient in answering my constant questions throughout the treatment, clearly very educated and happy to enlighten inquisitive first-time clients like myself.
Zoey started off with a cleanser to remove my make-up and products, and then lead me to the skin analysis machine. This is an imaging device that visualises the skin conditions and underlying layers. Basically, you lean your face into the machine and several spotlights shine a purple light at you. You hold still for a few seconds with your eyes closed as the machine takes a scan of your face.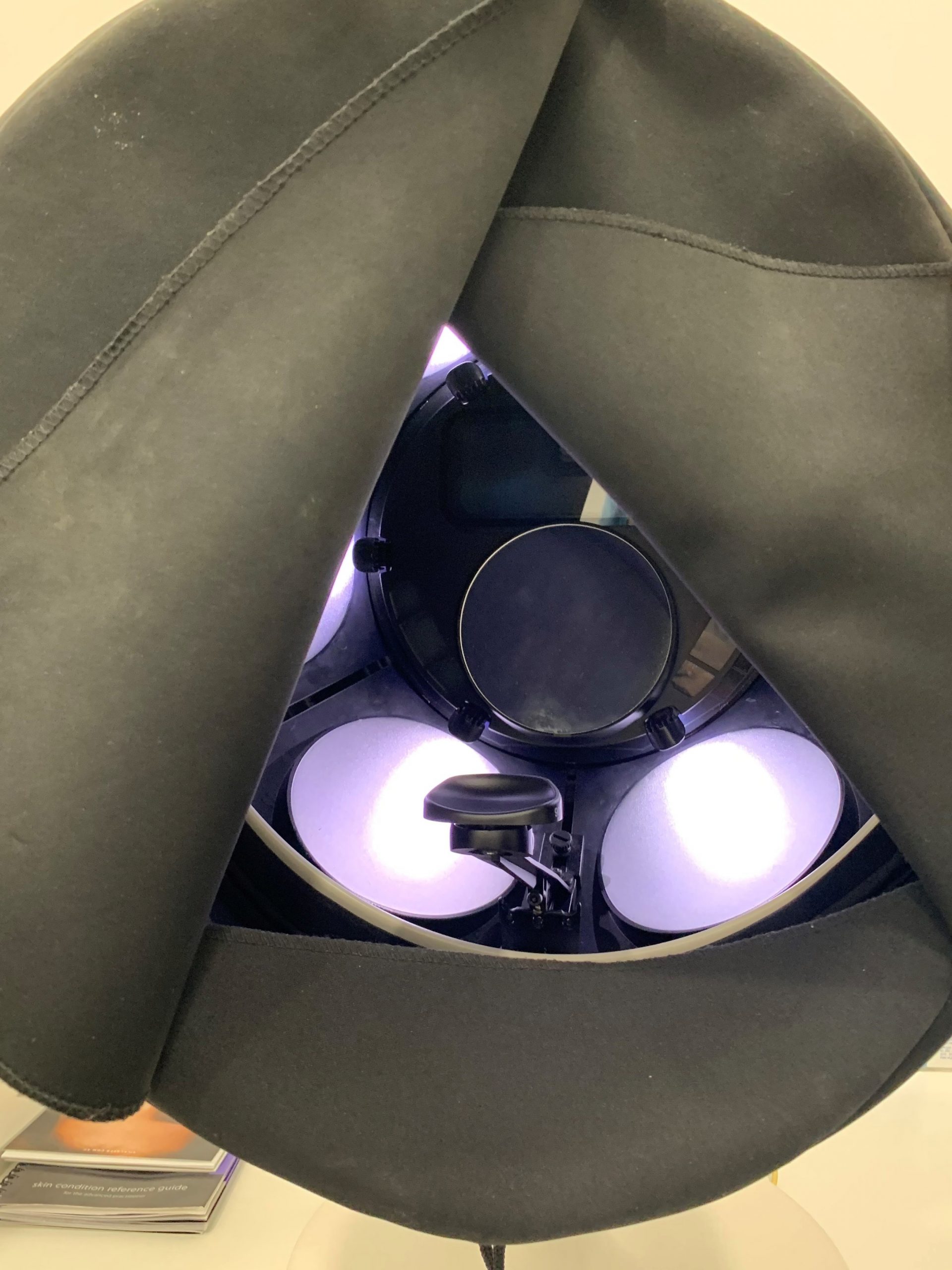 The six images then display on a large iPad. The True UV, Wood's and Complexion images were a little confronting, but very interesting to see. My freckles caught my attention the most. Although they are hidden under the surface, for now, seeing this reinforced to me the extreme importance of using SPF on your skin. And, as a long-time user and advocate for that imperative sun protection cream, I promise to preach the SPF message louder (and whip out these photos for anyone that tells me SPF is not important!).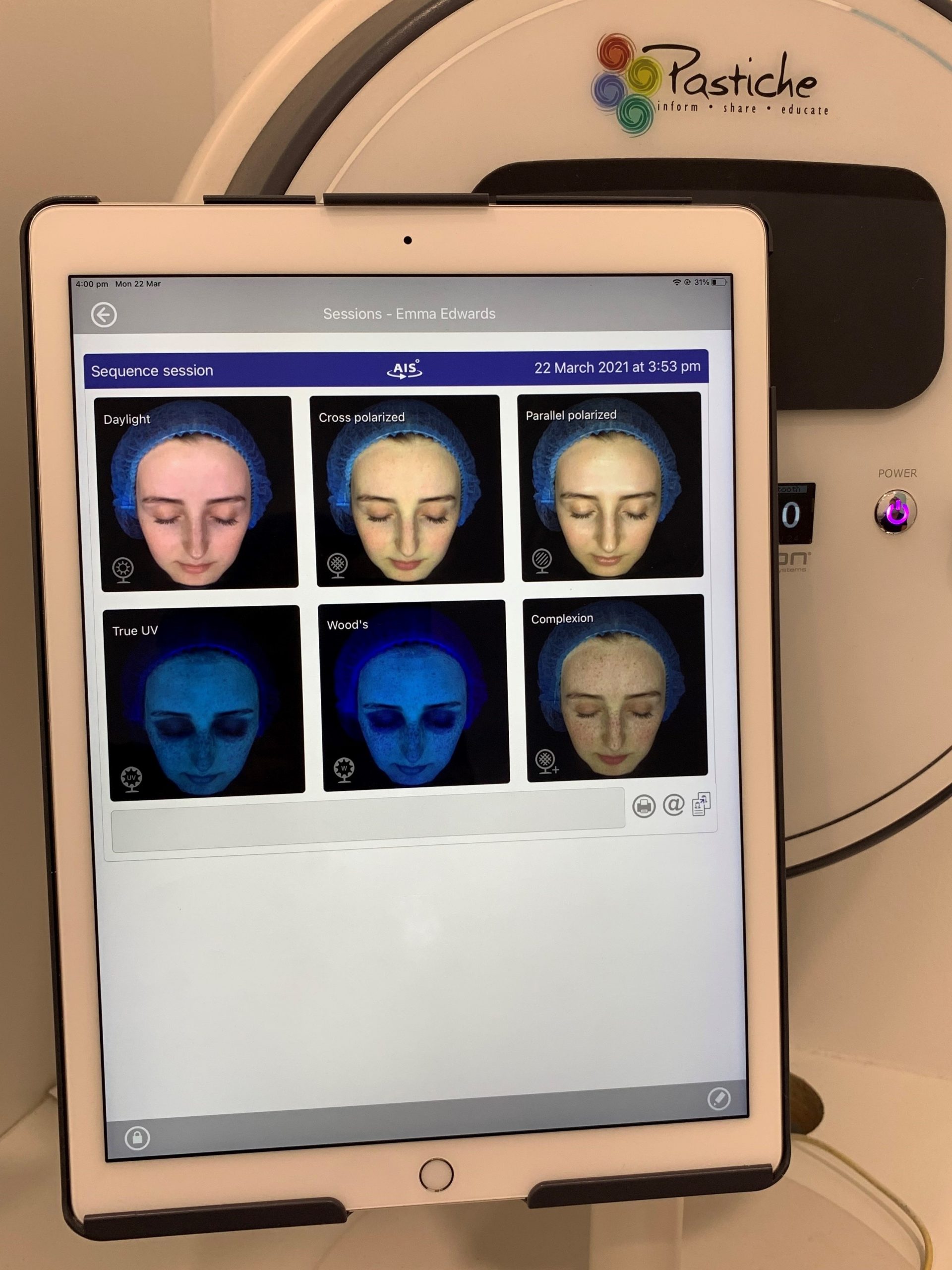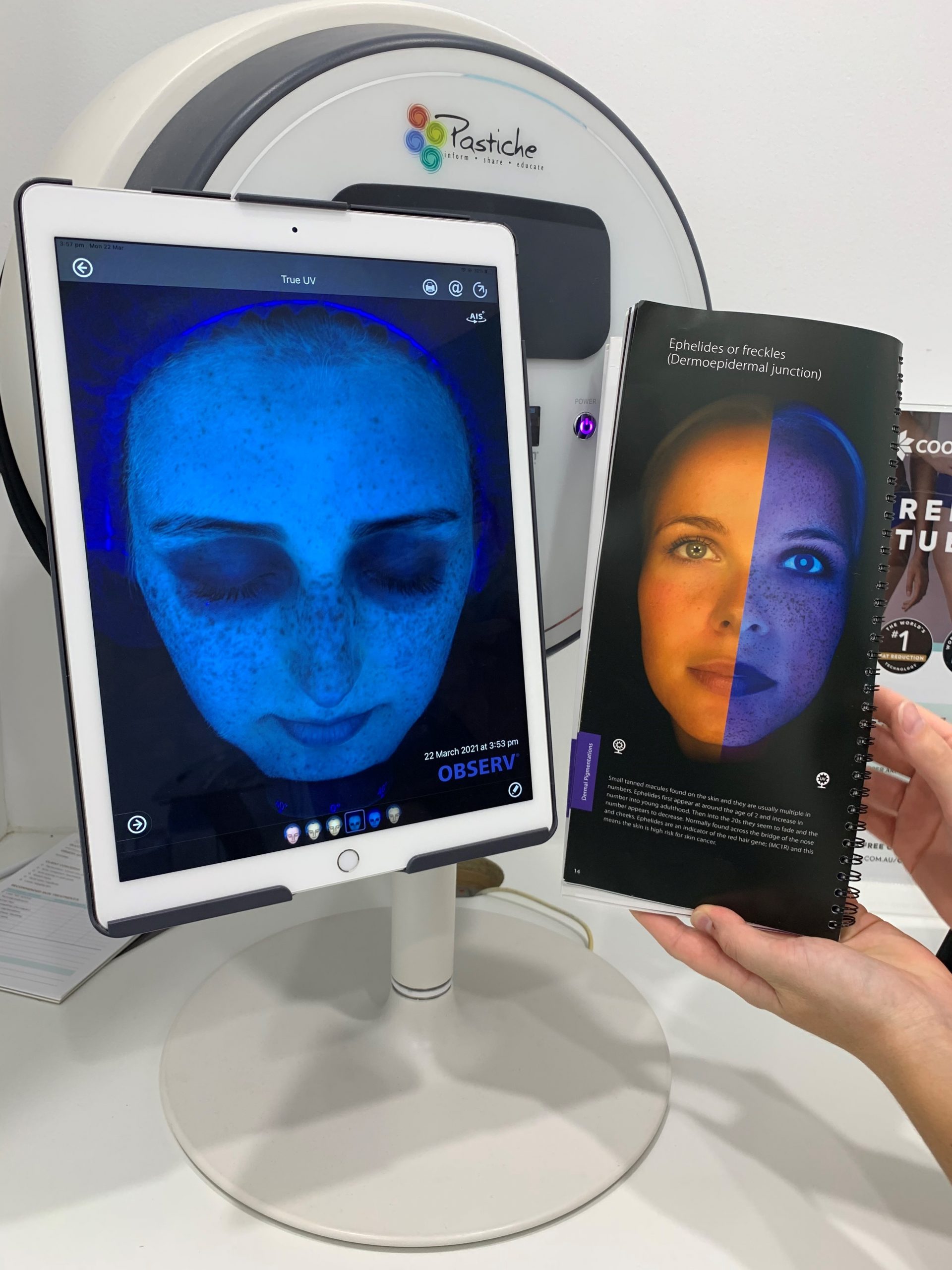 After the skin analysis, Zoey began the treatment with microdermabrasion to remove the dead skin cells. This is done first so that the next treatments and products can reach deeper under the skin surface. The suction device felt like a mini vacuum sucking off all the grimy dead skin cells sitting on the top surface of my face. I've had a couple of micros before, so I knew what to expect. I didn't realise until my treatment, that apart from ridding my face of those dead skin cells, benefits include an increase in lymphatic drainage, increase in circulation and improve in uneven skin tone. The process was comfortable and pain-free. My face was a little bit red, and I was also a little bit curious as to how many dead skin cells were exfoliated off my face (gross, but also, tell me you wouldn't be a little bit curious too?!). After the micro, my skin felt super clean and refreshed.
Zoey then proceeded with the infusion treatment. Are you wondering what an infusion treatment is? I was too! The infusion treatment operates from a handset with a bunch of teeny tiny needles (that actually do not even feel like needles!) that work together with whatever serum you choose, to infuse into the first few layers of your skin. I had the hydration infusion, because my dry skin craves anything that will quench its thirst, but you can also get an infusion serum for treating acne, pigmentation and rejuvenation. The infusion felt like a cool, zapping, scratching sensation. You lie comfortably, inquisitively wondering what magic is happening to your face, thinking about all the goodness oozing into your skin cells.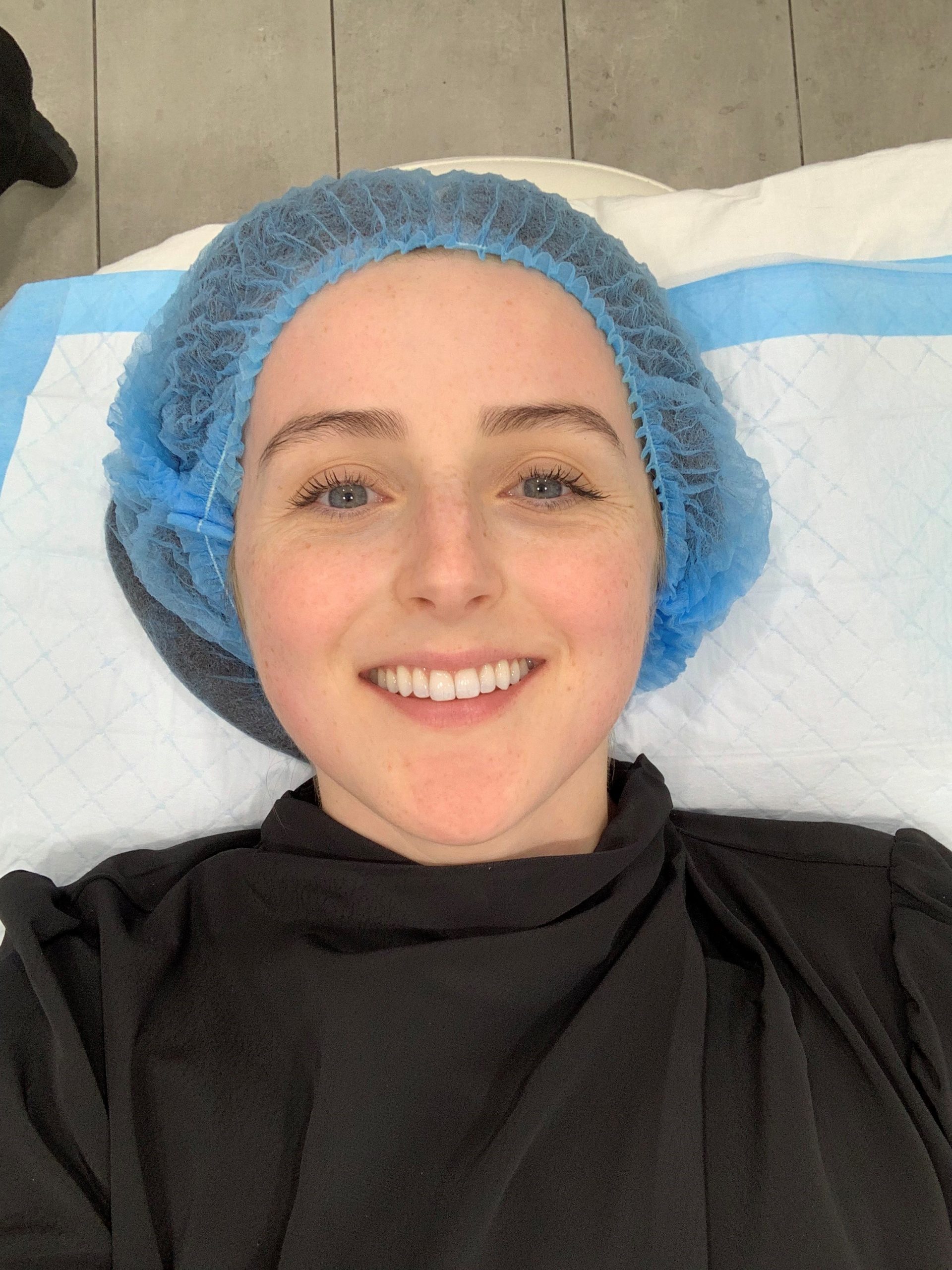 The third treatment was the LED Light Therapy, a laser light suitable for any skin type and condition. It works by delivering pure light to heat up the underlying skin tissue to treat the skin surface. SILK offers two types of LED Light Therapy treatments, the Rejuvenate and the Acne treatment. Rejuvenate glistens a yellow light, aiding in reducing pain, redness, swelling and bruising, and stimulates collagen and elastin. Acne beams a blue light, encouraging oxygen production in the epidermis to kill bacteria, and reduce the appearance of acne, pimples and breakouts.
The LED Light Therapy treatment went for just under 15 minutes, and let me tell you, a minute more and I would have been snoozing on the treatment bed. I was cosy and relaxed, enjoying the warm LED light. I felt like I was relaxing in the sun, minus the harsh UV rays – an absolute win!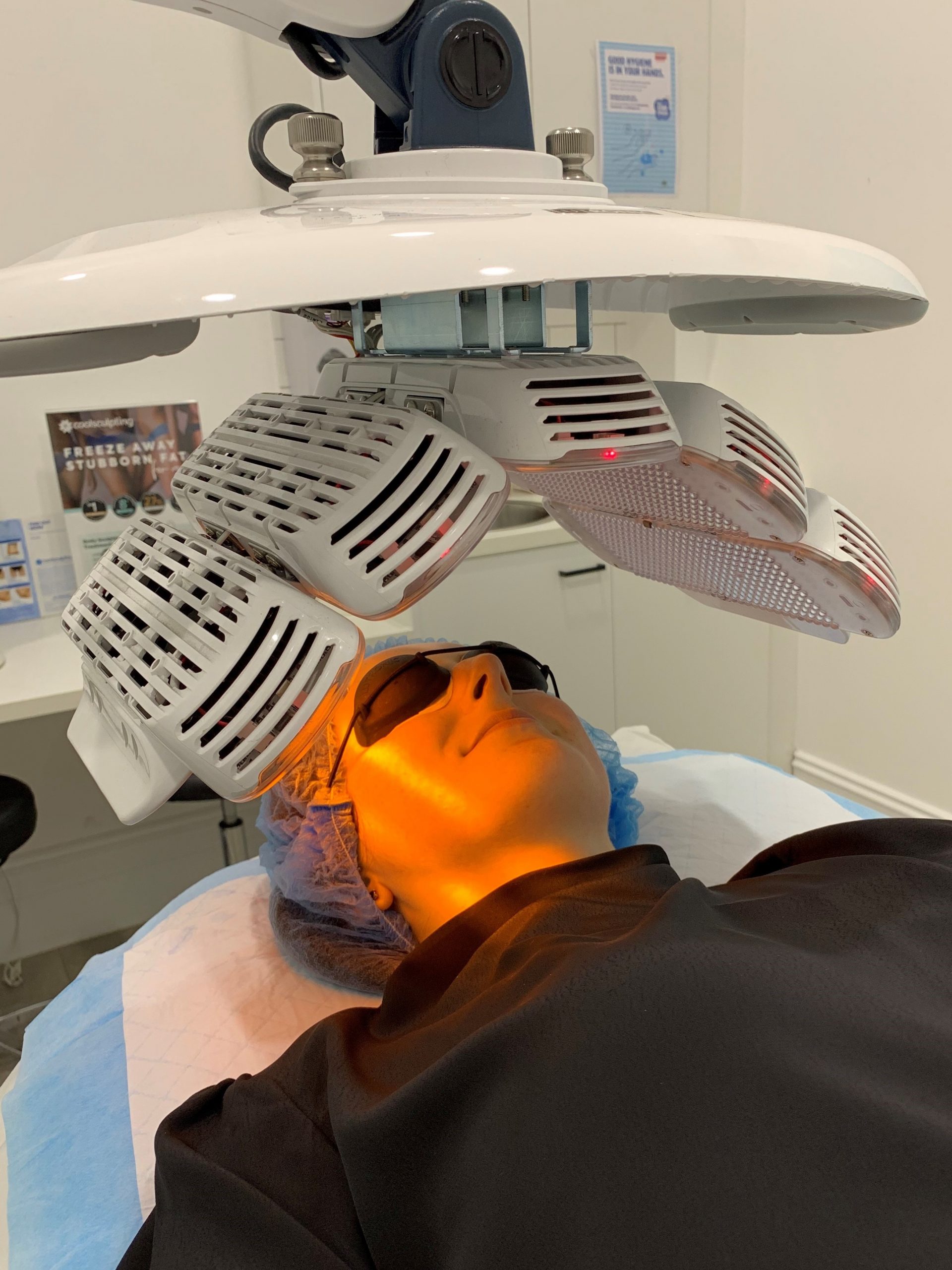 Zoey came back, removed the LED machine and goggles, and treated my revitalised skin to some hyaluronic acid and SPF, to really maximise that hydration.
Zoey alerted me to the fact that no active skincare products are to be used for a week whilst the treatments do their thing.
As I left the clinic, I couldn't help but check myself out in every reflection I walked past. My face felt a little warm, dewy, sort of tingly, very hydrated, and ultimately, on top of the world. It was like a bunch of skincare fairies had made their way into my face and were working some kind of rejuvenating magic – my now plump face wasn't even that red. That evening my face felt great, I certainly couldn't help but check myself out once, or maybe twice! My forehead was so soft and hydrated. The equal runners-up were my cheeks, which left the clinic rosy and juicy.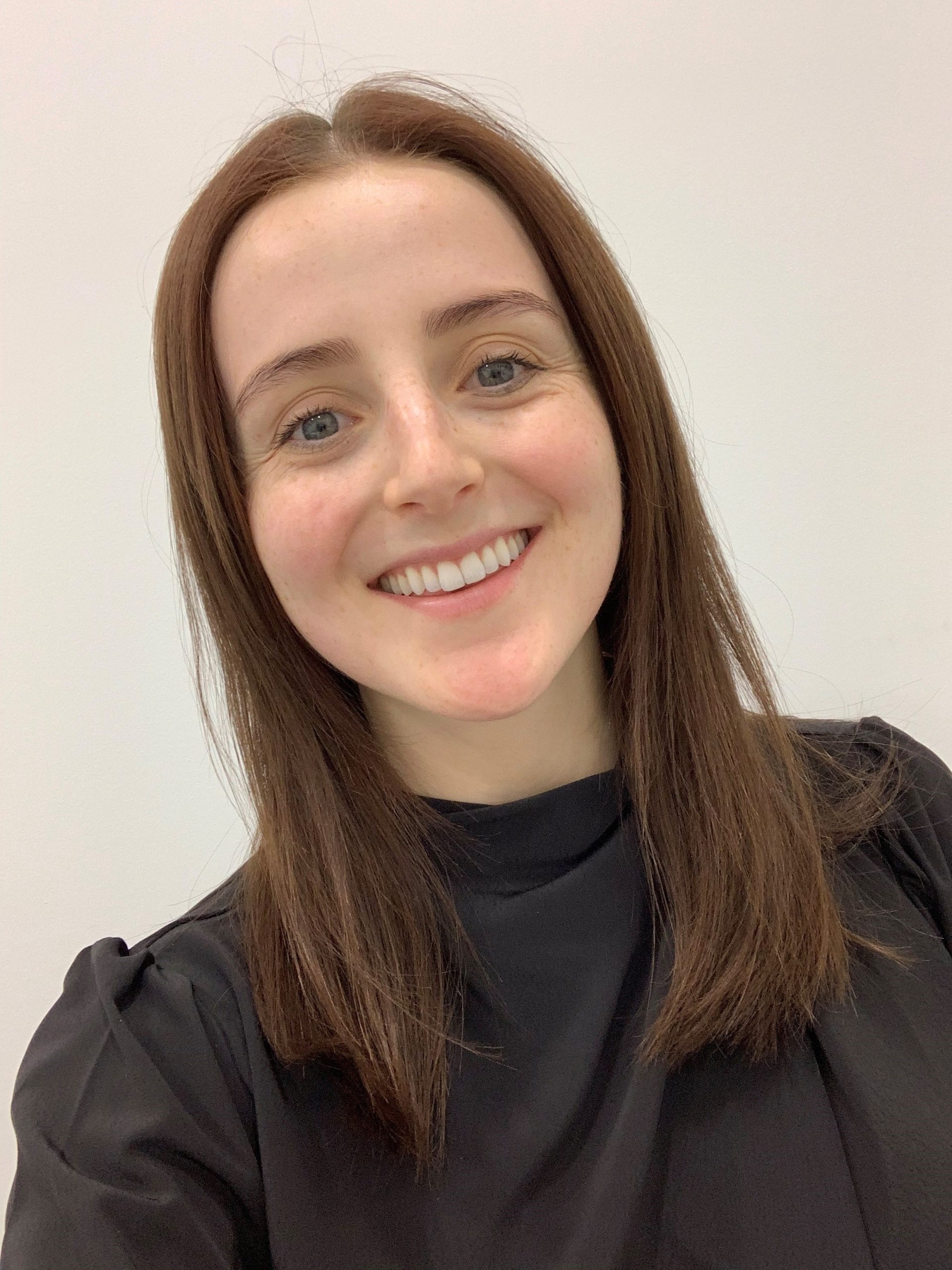 I had such a great first experience at SILK. It will be the first of many appointments, as I now understand how important it is to treat my skin to some much-needed TLC. I can't wait to return to another educational and enjoyable treatment.