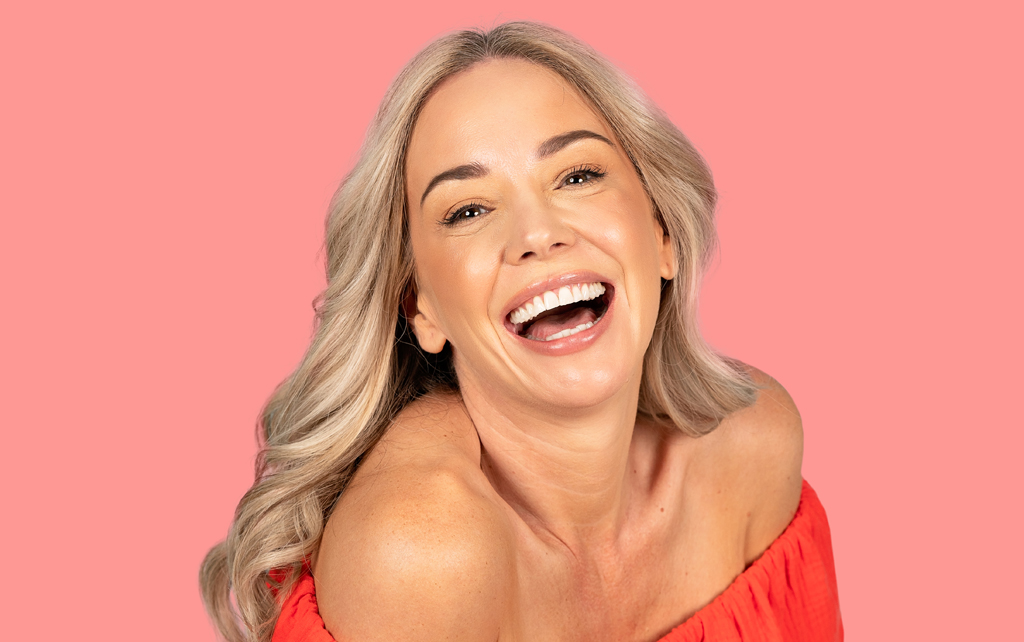 A little bit of volume!
Revitalise your skin with the latest Dermal Filler formulations. Our Medical Team listens to your concerns and identifies your needs, using minimally invasive treatments and techniques to achieve volume for a fuller and more youthful look.
Subtle, effective results start with a consultation for a comfortable experience. We will work with you to address your concerns.
Benefits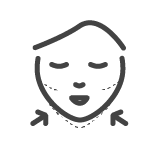 Add volume and structure
SILK's Dermal Fillers create the ultimate contour, structure and add volume to areas of the face. Facial features are redefined and enhanced with effective results.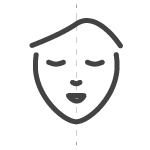 Facial Symmetry
Bringing facial balance back to your overall appearance, while creating symmetry and cohesion.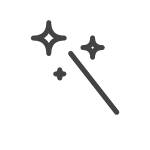 Immediate results
Results are long-lasting and seen immediately, with visible yet subtle changes.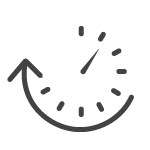 Minimal Downtime
There's minimal downtime, so you'll be back to daily life right away.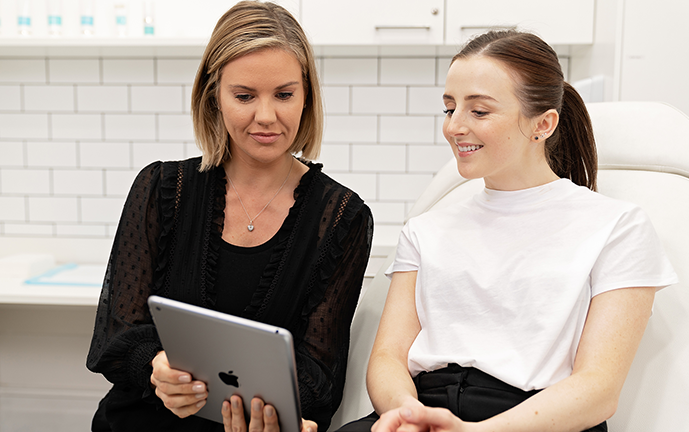 How it Works
Dermal Fillers aim to elevate your natural features and restore volume for an instantly refreshed appearance. 
Using these smooth injectable gels made from ingredients naturally occurring in our body to hydrate and lubricate, while correcting wrinkles and fine lines and restoring volume, SILK targets your specific needs providing natural-looking results.
With results lasting from 9-12 months, you'll feel and look refreshed ready to take on the world!
For your comfort, most of our dermal fillers are formulated using local anaesthetic.
Before + After

real clients, real results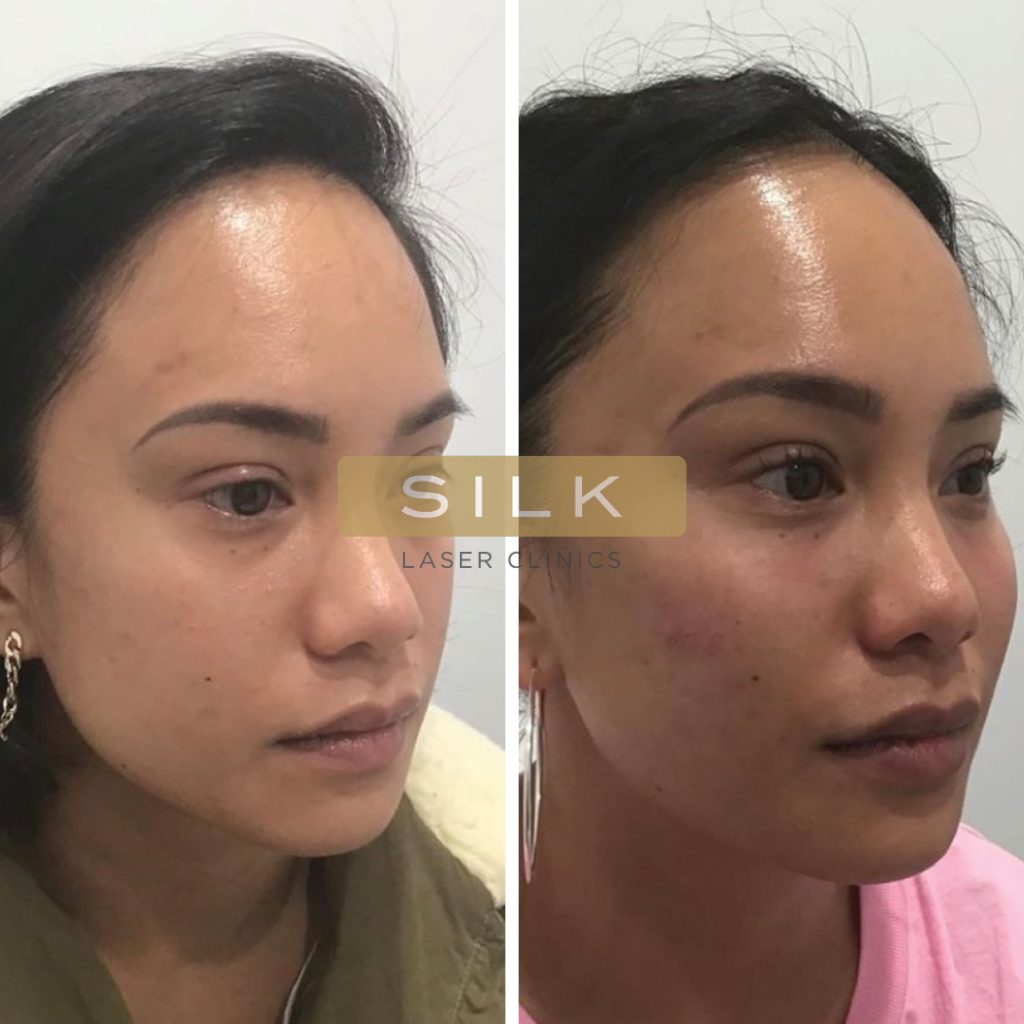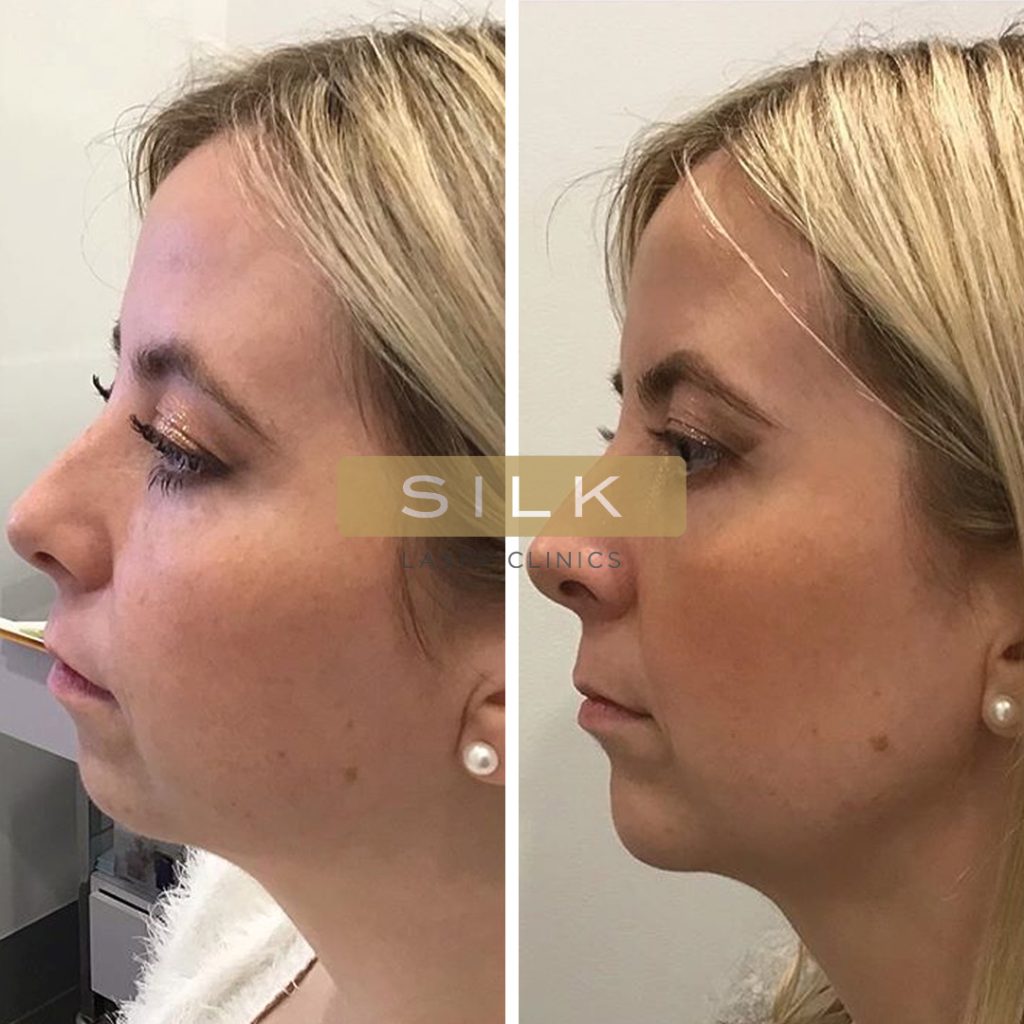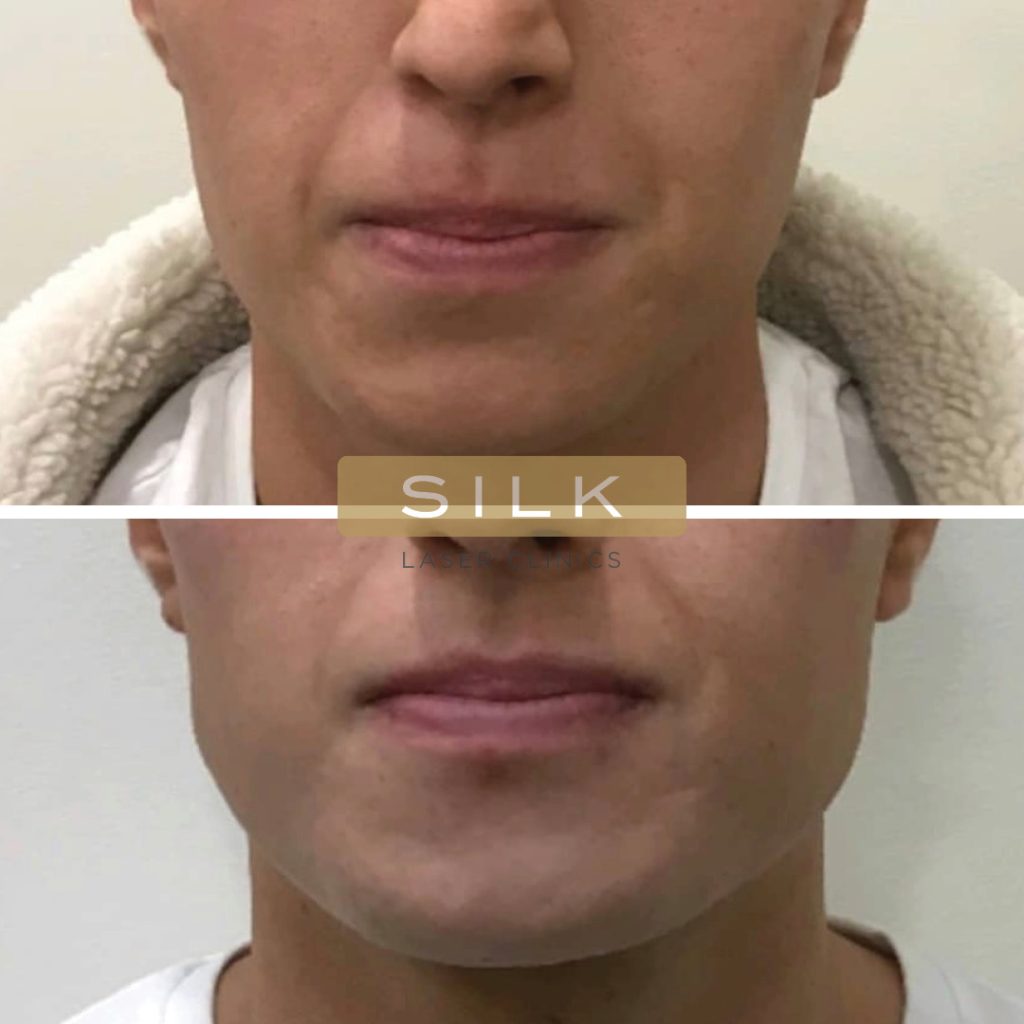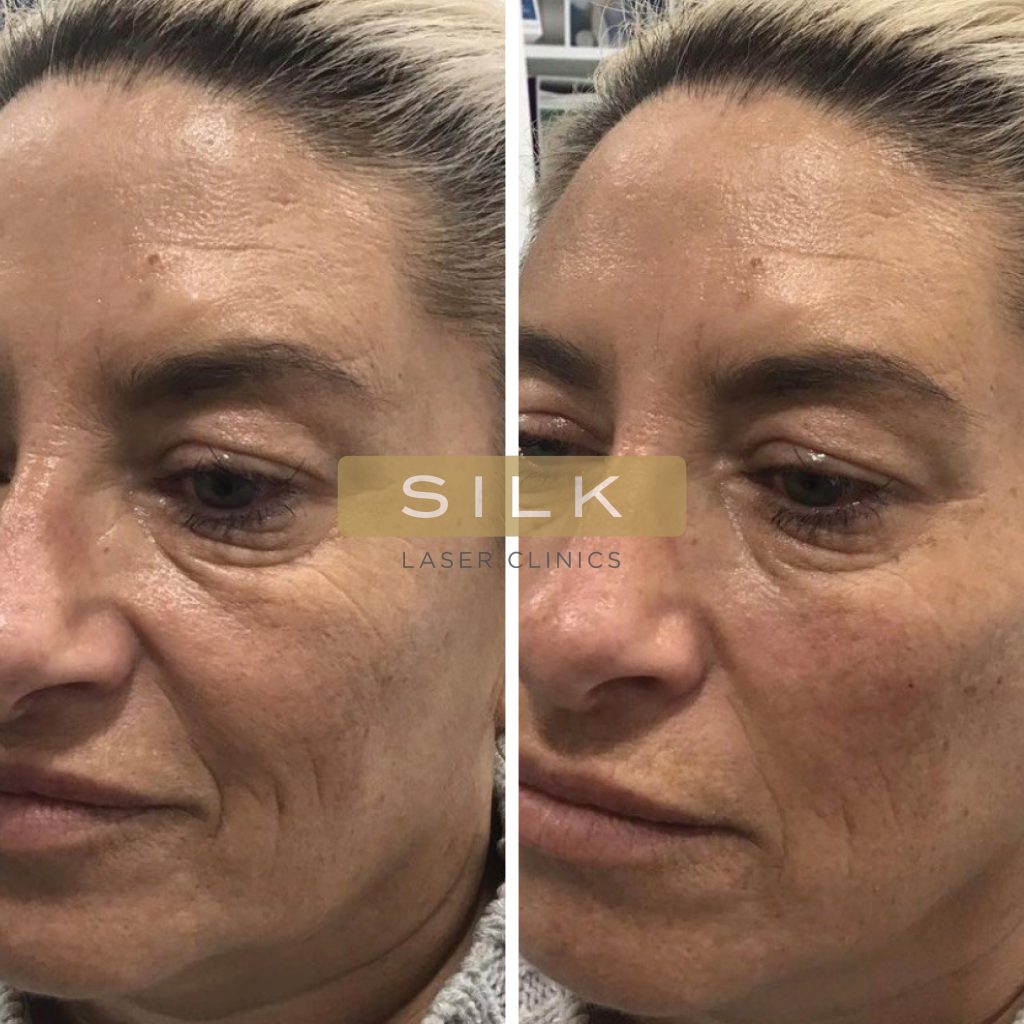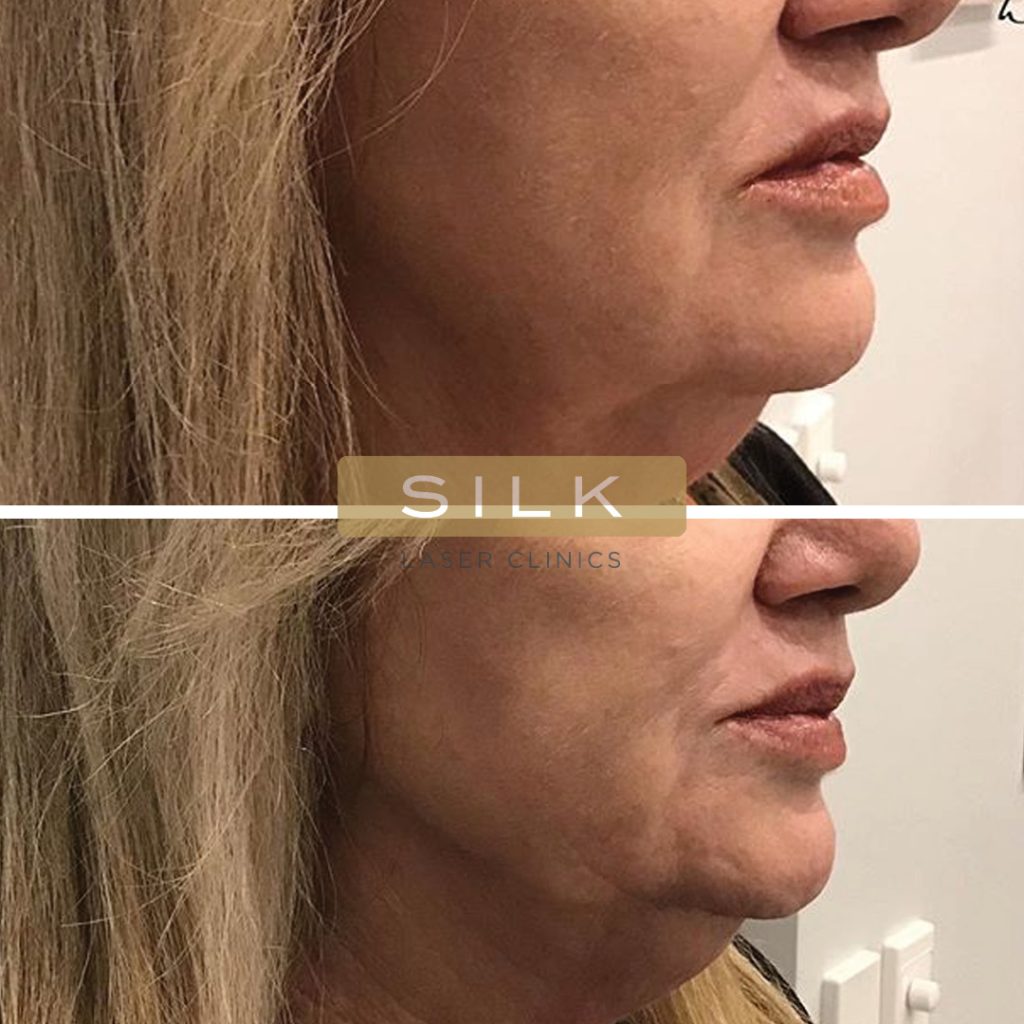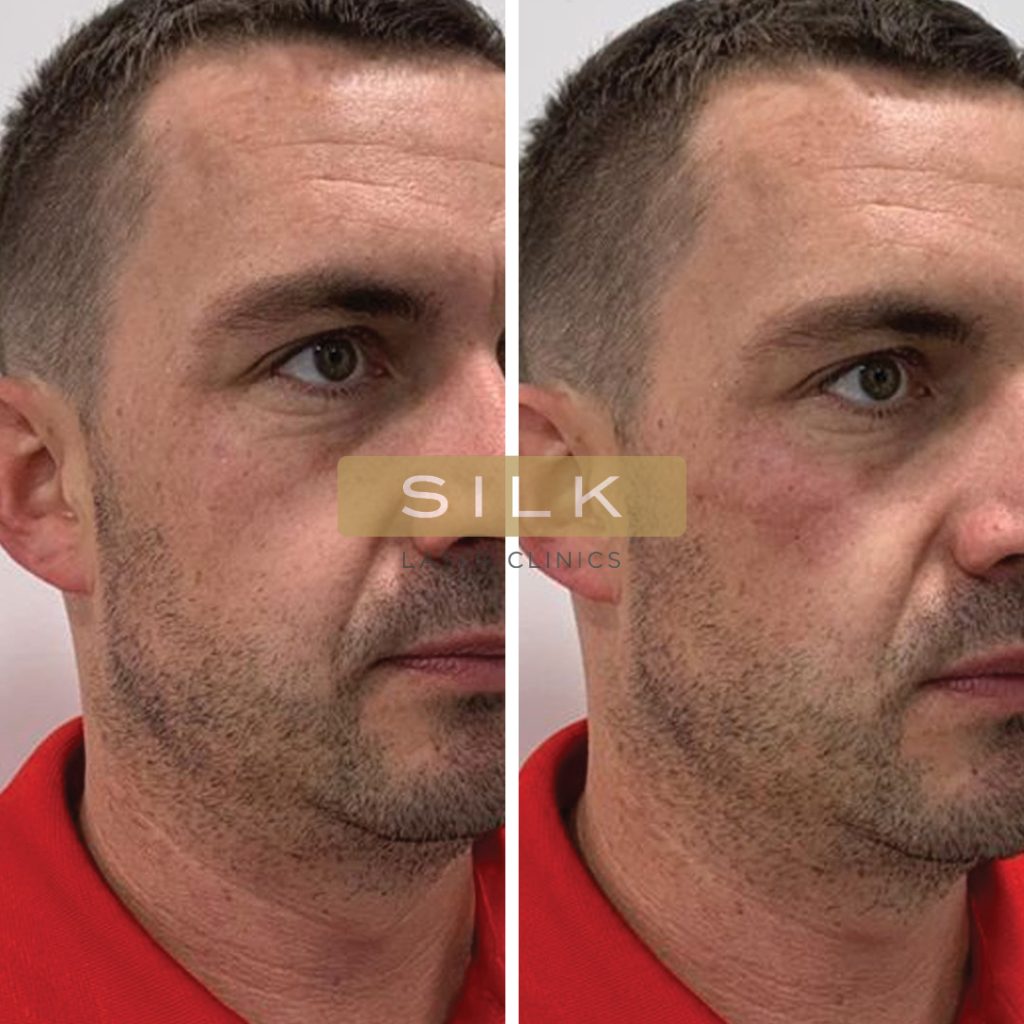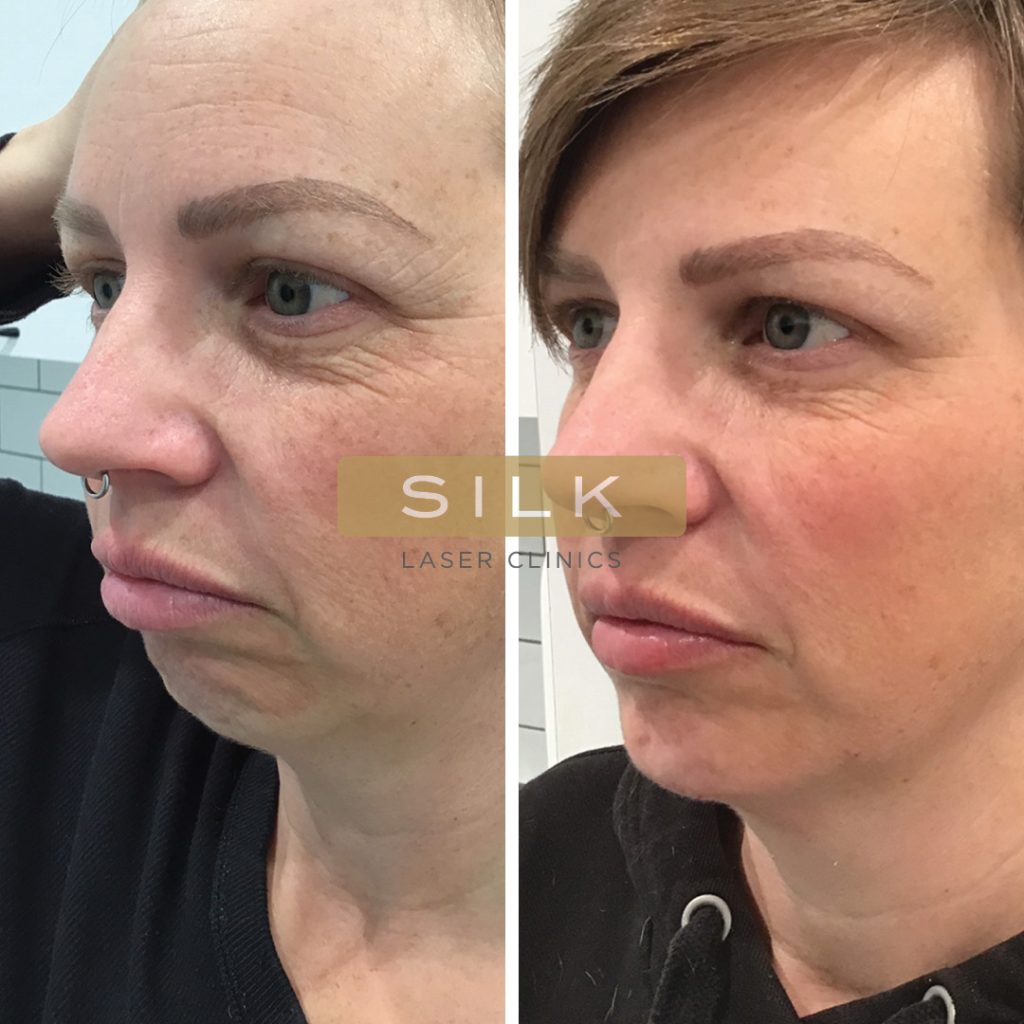 Treatment Area: Lower Face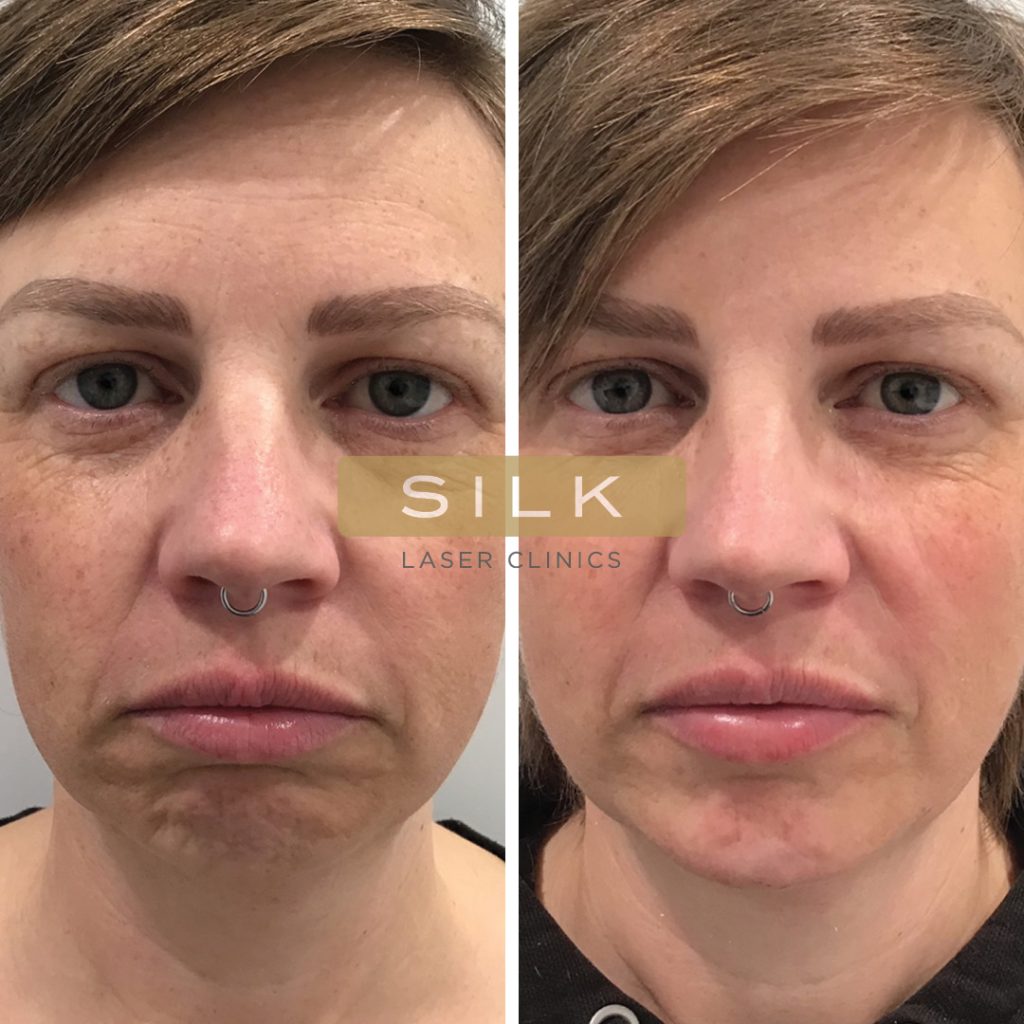 Treatment Area: Lower Face
Book your initial consultation at one of our clinics – it's time to put your skin safety first.
What to expect:
Before starting your treatment, you will need a consultation with your Cosmetic Nurse who will conduct an online consultation with the Prescribing Practitioner. From the consultation, an assessment of your treatment plan and prescription will be completed.
Depending on the size of the treatment area, the procedure can take between 15 to 45 minutes.
The area is numbed for your comfort, with the amount of injections administered dependent on the amount of product and desired result from the treatment.
Immediate aftercare:
Ice can be used after treatment if needed.

Do not exercise, have hot showers, or enter saunas for 24-48 hours post-treatment.

Area must not be massaged for at least 48 hours.

Avoid sleeping on your face for at least 24 hours post-treatment.

Domestic flights should be avoided for 48 hours post-treatment, and International flights for 2 weeks post-treatment.

Avoid alcohol and painkillers such as ibuprofen before and after treatment as they can thin the blood and can make you prone to bruising

Book a review with your Cosmetic Nurse 2-4 weeks post-treatment
Got Questions?
We've got answers
Dermal Fillers are smooth injectable gels, made from a product (which naturally occurs in our skin and joints to hydrate and lubricate) that are placed beneath the skins surface to restore volume, correct static wrinkles and folds and erase fine lines, whilst providing the skin with volume, support and hydration.
Dermal Fillers rejuvenate and enhance facial features, restore youthful contours and have instant, natural looking and feeling results that last from 9 to 12 months. For your comfort most of the dermal fillers we use are formulated using local anaesthetic.
Dermal Fillers are made from a naturally occurring substance found in all mammals that helps to hydrate and add volume to the skin. In addition to its use as an aesthetic treatment, hyaluronic acid has also been used for more than 20 years for injection into arthritic joints to aid movement as well as for eye surgeries and wound repair.
At SILK, we understand that having a cosmetic procedure (especially if it is your first time) can be a little daunting, and with numerous anti-aging products and treatment options available to you, how do you know what is the most effective and the safest?
Two important factors to consider when deciding on a treatment are, the safety of the product being used and the qualifications, skill and experience of the person providing the treatment. We only use dermal filler products that have a proven safety record. Federal legislation prevents us from naming the product on our website, however what we can tell you is they have been used here in Australia for over 12 years, longer than any other hyaluronic acid dermal filler and have performed over 15 million treatments worldwide, so their safety record speaks for itself.
Please feel free to contact any of our clinics if you have any further questions about the Dermal Filler products we use.
As with any medical procedure there are potential side effects that should be fully explained to you prior to undergoing your treatment. Most of these are injection-related, such as swelling, bruising and discomfort which will resolve over a few days. As part of your consultation and treatment your treating medical professional will discuss your medical history, current medications, illness or allergies that may impact on your suitability to undergo treatment with dermal fillers.
Please feel free to contact any of our clinics if you have any further questions about the dermal filler products we use.
Dermal fillers are an effective method for regaining a youthful complexion. Results are temporary and treatment must be repeated in order to maintain the results. Dermal fillers have been successfully used as an anti-ageing and enhancing treatment for many years.
If you would like to naturally enhance you facial features or soften the appearance of ageing skin, Dermal Fillers will assist in achieving these results for you.
After your initial treatment, an additional top up treatment may be necessary four to six weeks after the initial treatment. This means you can control your results by working with your practitioner to achieve the optimal correction and achieve the look you desire. The 'less is more' approach is often the best approach.
Once you have achieved your ideal result, the treatment will last 9-12 months.
General redness and mild to moderate swelling at the treatment area is common for some treatment areas. Localised tenderness for a few days following treatment is also common. Mild to moderate bruising can occur in some individuals.
As the Dermal Fillers are made from hyaluronic acid, which occurs naturally in the body, an adverse reaction is highly unlikely, however we ask any client who is experiencing side effects to contact one of our clinics so our medical team can follow up to ensure maximum safety and satisfaction.
If you decide to discontinue treatment with Dermal Fillers, the volume will slowly disappear and the treated area will return to its original state.
There is evidence that the proteins in these dermal fillers can promote new and healthy skin tissue, so along with the cosmetic look it can help to create younger looking skin in the long term.
Please refer to our price list for pricing on Dermal Fillers. Alternatively, call one of our trained technicians at any of our SILK Laser Clinic locations for pricing or to make a booking for a consultation with our medical team.
Make sure you are informed about the benefits and risks associated with the brand your healthcare professional uses and how they differ from other available brands. At SILK, we only use the worlds leading brand and the products synonymous with Anti-Wrinkle Injections.
When it comes to side effects, each product is different. Always ask your healthcare professional about the brand of treatment being administered and ensure you discuss possible side effects and how they may vary based on the brand used for your treatment.
Add-ons
You have saved $0.00 so far

Find your nearest SILK clinic
Find your nearest SILK clinic
Get the latest
Subscribe to the SILK INSIDER
Get the latest
Subscribe to the SILK INSIDER