In this tech-savvy, COVID-19 world we live in, at-home beauty devices have flooded our social media feeds. From fandangle LED Masks to at home microdermabrasion devices endorsed by bikini clad influencers, there's no escaping this content. The big question is, are they any good? Will they work? Will they ever arrive in the post?
Full of promise, these gadgets provide us with an idea that we can multitask and get great results, while sitting on the couch or reading in bed. While they look fun and easy enough to use, are they really as effective and convenient as they seem?
Laser Hair Removal vs At-Home Laser Hair Removal
Laser Hair Removal is an effective way to permanently destroy hair follicles. Over time, hair grows back at a reduced rate, resulting in long-term, silky-smooth, hair-free skin.
At SILK, we use medical grade Candela lasers. Safety is our number one priority. Prior to operating our laser machines, our technicians undertake rigorous training with our qualified educators. Ensuring settings take into account your skin colour and any contraindications are considered, to ensure risks are minimised and that you achieve the best results possible.
At-home laser hair removal devices are not as strong as our medical grade quality lasers – in fact, they are in fact IPL (intense pulse light) devices, not lasers. Consequently, IPL devices will not have an accurate pinpoint to destroy hair, and they can actually stimulate growth if the device isn't strong enough. Whilst at-home IPL devices are easy to get your hands on over the counter, if they end up in the wrong hands (i.e. if you're not overly confident or careful), you can cause serious damage! Caution is key – you don't want to burn your skin or cause hyperpigmentation (where certain areas of the skin become darker in colour). As well, at-home results take longer to develop than the results you achieve in clinic.
At SILK, our technicians are experts in the precise laser technique – especially when treating intricate and sensitive areas of the body.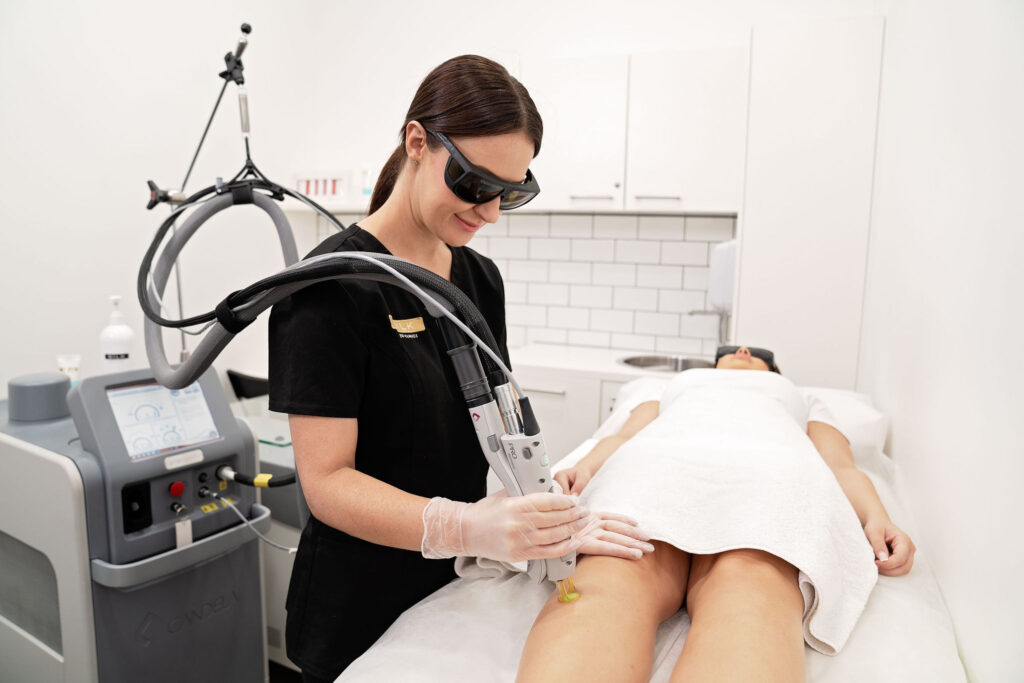 Microdermabrasion vs At-Home Micro
Ahh, the fresh glow after a micro feels great! The trusty skin device with a suction tip to exfoliate dead skin cells, leaving the skin feeling refreshed and smooth.
Our qualified technicians are experienced in operating our microdermabrasion device. They know the correct settings to use, and when your skin is ready to increase to the next setting. Skin is delicate, and considered technique will get the best results – don't be fooled by inexperienced influencers dragging and tugging their at-home device in any direction, hoping for the best. If you want a great result, get a professional treatment. If you are not careful, you will end up with skin grazing that can lead to pigment damage and scarring.
Dermaplaning vs Face De-Fuzzers
Dermaplaning removes the fluffy hair (or peach fuzz) and dead skin cells on your face. It's a great way to improve dull skin tone, congestion, and dehydration. You will also find skincare products absorb better and make-up applies more smoothly on freshly dermaplaned skin!
Our trained technicians use a sterile surgical blade to remove the fine hair on your face, in turn, giving your skin a mild exfoliation. Skin is thoroughly cleansed prior to treatment to avoid any infection or cross contamination.
Face de-fuzzers can be purchased from the chemist or supermarket, and while this option is cheap and easy, you run the risk of harming or cutting yourself. Best results are gained by using the correct technique. We recommend you book in and get your dermaplaning treatment done by a professional in our clinical environment.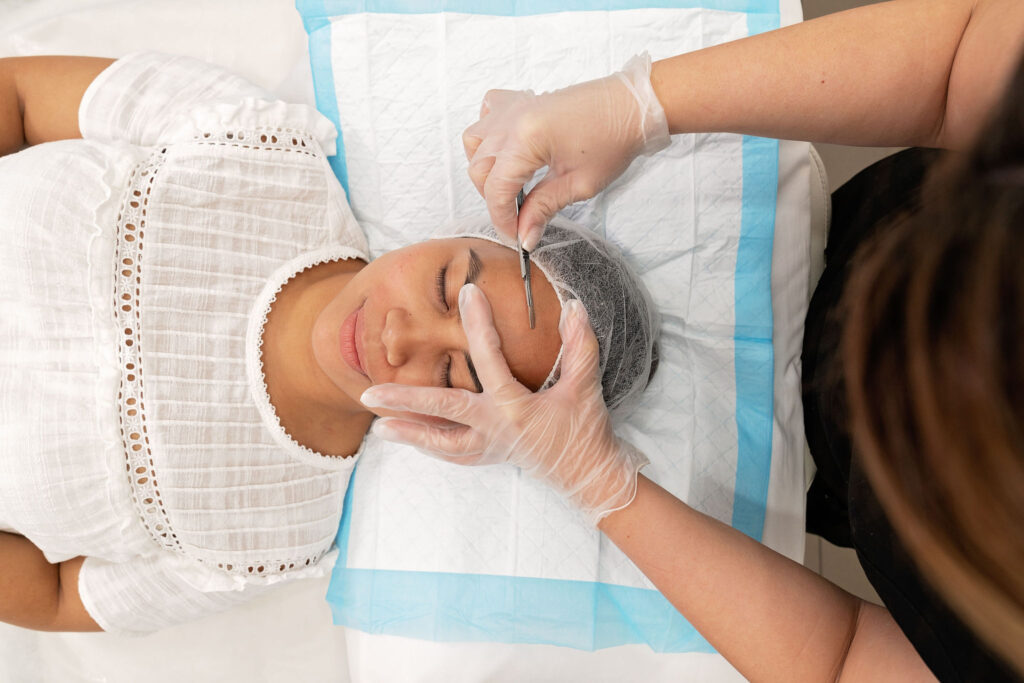 LED Light Therapy vs At-Home LED Masks
LED Light Therapy works by delivering pure light to heat up the underlying skin tissue to treat the skin's surface. It's great for treating a range of skin concerns and conditions.
At SILK, we provide two types of LED Light Therapy. Rejuvenate aids in reducing pain, redness, swelling and bruising, and stimulates collagen and elastin. Acne encourages oxygen production in the epidermis to kill bacteria, and reduce the appearance of acne, pimples, and breakouts.
At-home LED Light Therapy devices attach to your face with a strap or band. Unlike our professional-grade LED Light Therapy treatment, at-home masks don't deliver as strong a light (and they're not cheap!). LED Light Therapy strength is based on milliwatts per square centimetre – our LED machines are bigger and cover more area than at-home devices, producing more power. As at-home devices are smaller, they have a lower power output. Therefore, to replicate the great results you achieve in clinic, you'll need to spend a very long time hanging around home, sporting that alien-like mask.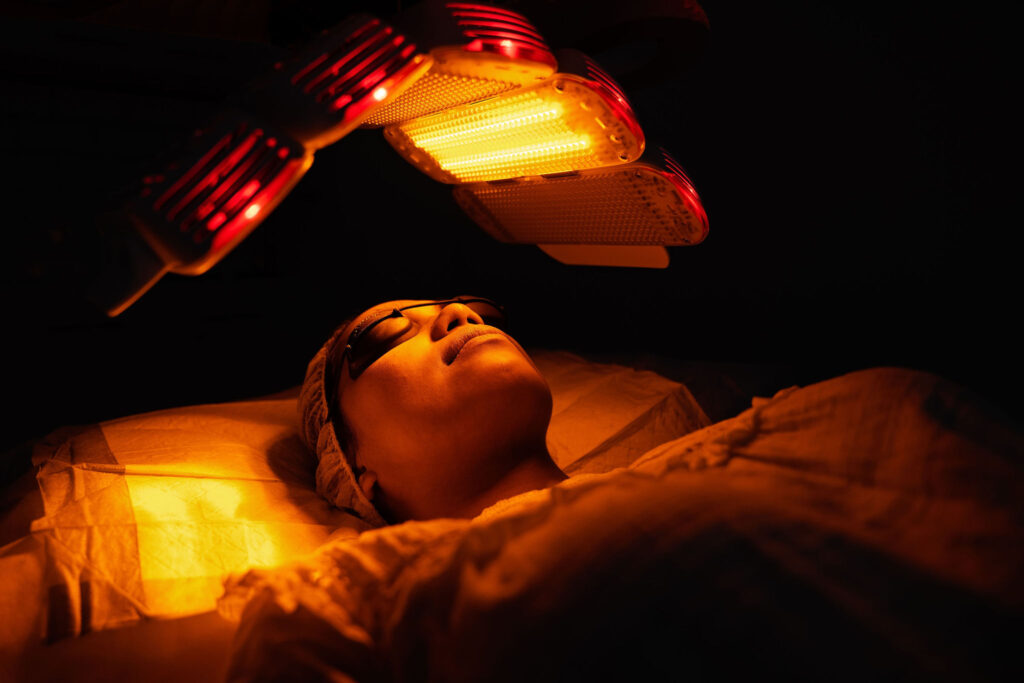 Microneedling vs Derma Roller
OK, we love both. They work together to achieve results, but they are not the same or interchangeable.
At SILK, our MediPen Microneedling device systematically creates controlled wounds with needles that reach different depths depending on your skin concern (up to 2.5mm). Derma Roller is a handheld tool with shorter needles that you manually press into and roll across your face – our Aesthetics Rx Derma Roller reaches a safe 0.25mm in depth.
In terms of results, Microneedling encourages a wound-healing response to increase production of collagen and improves the appearance of acne scars, uneven skin texture, enlarged pores, oily skin, dry skin, fine lines, wrinkles, hyperpigmentation, or stretch marks.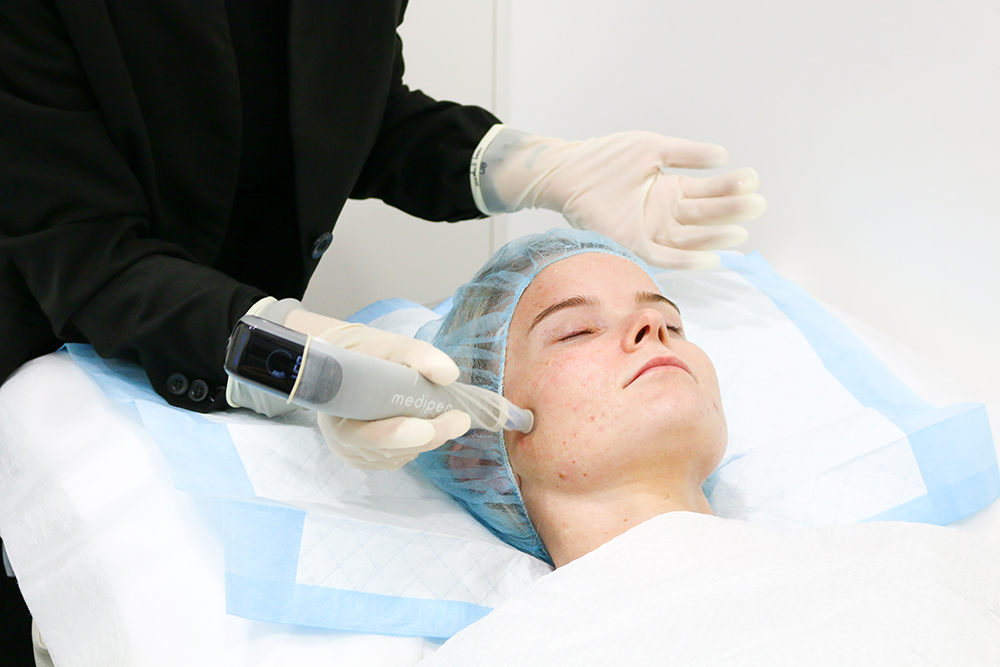 Derma Roller helps with these concerns too, however, not as effectively or efficiently. We love our Aesthetics Rx Derma Roller – it's fantastic for improving clinic results in-between treatments and enabling serums to get deeper into the skin. But, it certainly doesn't replace Microneedling, performed by a trained technician in our safe, hygienic, clinic setting. Your SILK technician will assess your skin concerns and tailor your treatment, adjusting the MediPen depth accordingly, to achieve your desired results.
Be cautious of derma rollers sold online with depths between 1mm – 2.5mm – these depths penetrate the skin. Unlike Microneedling devices, Derma rollers can't change depth for different areas (the nose, around the eyes, forehead and jawline need a different depth to the cheeks). Using one depth all over is ineffective and can also cause damage to your delicate face. If you wish to reach these needle depths, it's best to leave it to the professionals.
Professional Skin Peels vs At-Home Peels
Dermal Peels are a topical solution applied to your skin. As the name suggests, peels cause the top layers of your skin to shed. As the top layer sheds so does the appearance of dull skin, pigmentation, congestion, and uneven texture. You'll be looking at a rejuvenated, more youthful appearance in the mirror!
The convenience of at-home peels could be enticing. However, complications can arise if you aren't careful. Burning, post-inflammatory hyperpigmentation (mostly in darker skin tones), and sometimes even scarring, can occur – especially if you are using medium or deep peels.
Our peels are carefully formulated with active ingredients, to deliver targets results. In trained-professional hands, our peels are very safe! They work on the epidermis, the most superficial skin layer. Our experienced technicians understand our comprehensive peel range and will select the most appropriate peel for your skin.
The verdict
For committed skincare enthusiasts, at-home beauty devices can complement your in-clinic treatments. When you compare the professionalism, medical-grade devices, hygiene factor, and scope of treatments, ultimately, the safest and most effective method of treating your skin is in-clinic.
At SILK, we are results driven. Our qualified clinic staff have an extensive knowledge of laser and skin treatments. Safety is paramount. We take the time to understand your skin concerns and then customise your treatment plan accordingly.
If you're curious about any of our treatments or looking step up your at-home skincare routine, book a consultation at your nearest SILK clinic.