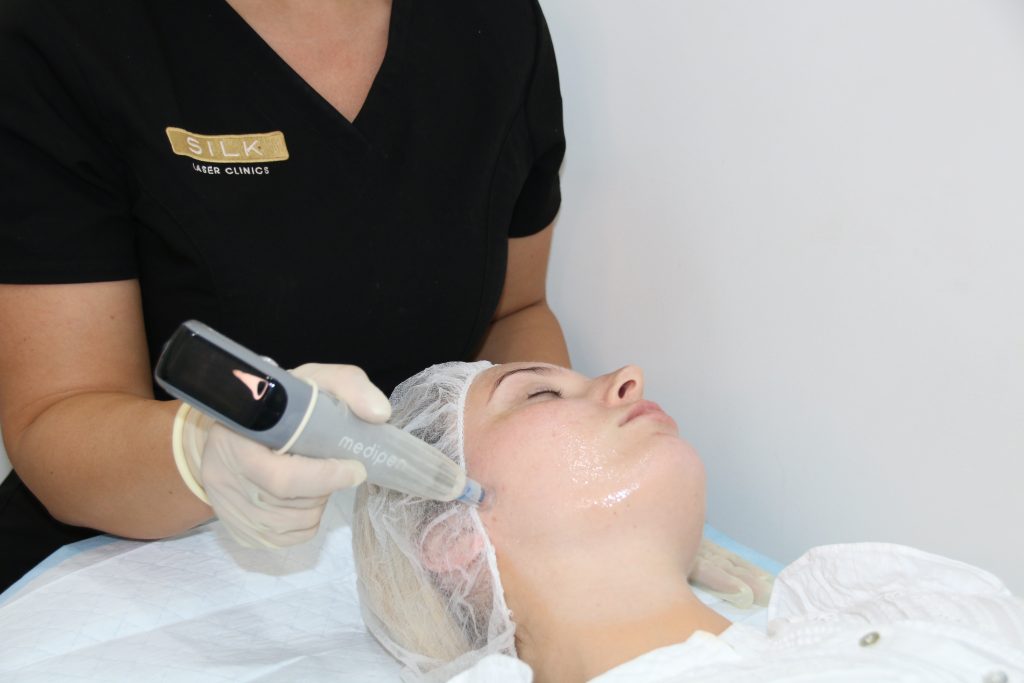 It's a big call when a treatment is promoted as being able to assist with large pores, fine lines, uneven skin tone, acne scarring and more?
I was a little dubious at first but now I'm a complete convert and whilst it's a little uncomfortable this treatment really does hit the mark as the ultimate all-rounder!
Microneedling is quickly becoming one of the beauty industries most popular treatments due to its large list of benefits. The name microneedling may sound a bit daunting but through learning more and understanding exactly what the treatment is, certainly helped to calm my nerves.

What is microneedling?
At SILK Laser Clinics, they use a Dermapen device. It's shaped like a pen and has small oscillating needles that create micro-punctures in the skin causing the body to naturally respond by launching processes to repair the physical damage by creating an increased production of normal woven collagen
Does Microneedling hurt?
Honestly,  yes a little bit, but not that type of pain that makes you stop half-way through, run away and never come back, it's quite tolerable. The area being treated is covered with Hyaluronic Acid Serum, which helps the needles glide along your face, but also helps hydrate the face at the same time. Some areas on the face are more sensitive than others and the needles can be set to different depths so the deeper the penetration, understandably the more discomfort you may feel. For example a deeper needle depth is used to treat clients whose main concern is acne scarring the deeper depth enable better results.
SILK also has a hydrating 3D Mask that can be added onto your treatment which will help to cool, soothe and hydrate the face after treatment. I haven't had one without this add on, so definitely recommend it. It feels like your skin is really drinking in the moisture and the cooling effect feels fantastic.
Is there any down time?
A little bit. I wouldn't recommend getting this done just before a big event, or on the same day as you are going out for dinner, as you will be quite red for at least a few hours up to 24 hours after the treatment. After each of my treatments, I felt and looked like I had sunburn, but when I woke up the next day, it was completely gone.
After treatment it's recommended you do not exercise, swim, apply certain skincare products and avoid make up for ideally 24 hours your skin will be responding naturally during this time increasing collagen production while you get back to your everyday life.
What is the difference between an in-clinic microneedling treatment and an at-home derma roller?
Derma rollers are great for in between treatments for better absorption of skincare products but to see more drastic results, you will need to have in-clinic treatments as well. This is because during the professional treatment you are getting a professional service that ensure every area is passed over correctly  not to mention, the at home rollers are usually about 0.25mm in depth (which is the depth of the Aesthetics Rx Derma rollers sold at SILK), while treatments done at SILK can be up to 2mm in depth
How long does it take to see results?
You will notice an improvement on the appearance and texture of the skin after your first treatment, but long-term benefits can be seen after a series of treatments. SILK Laser Clinics recommend a course of 4 treatments for noticeable results. I felt my skin was at it's absolute best after 6 treatments, spaced 6 weeks a part. Having your treatments spaced like this allows for the skin to heal properly and for new skin cells to fill in the micro injuries that were created by the Dermapen device.
I love a relaxing facial like anyone but for a results driven treatment microneedling wins hands down!  It is nice to complimented on my skin and I find I wear less make up now that my pigmentation and pores have reduced.