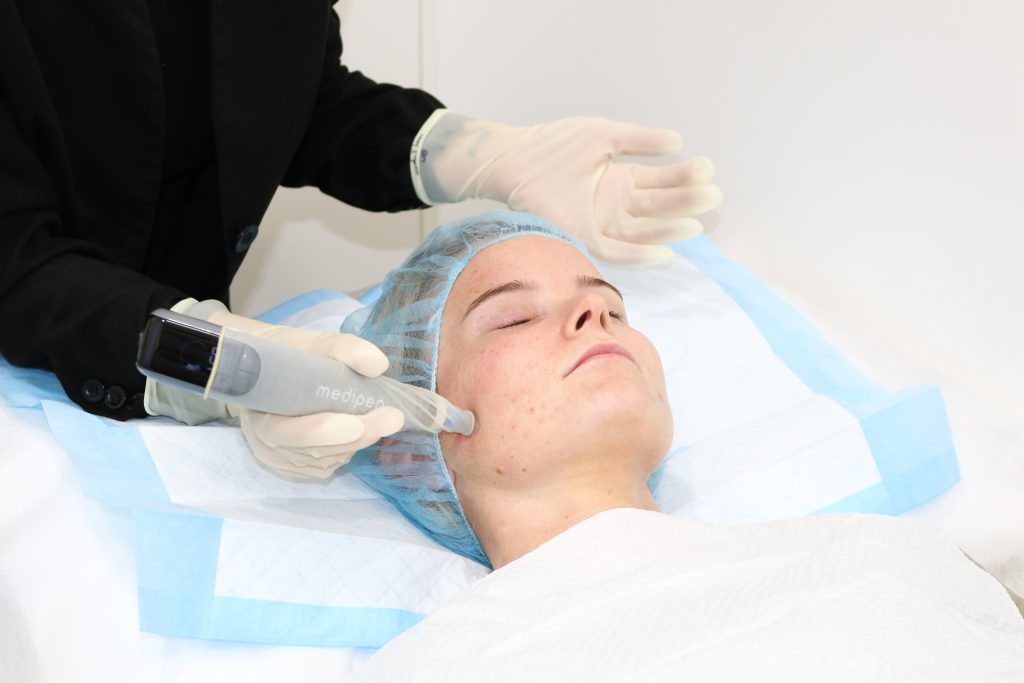 At SILK, we love Microneedling! And now we have a brand-new device that we know you and your face are going to love, too!
Introducing, MediPen – the newest device from Dermapen World, now available at SILK clinics across Australia!
What's so great about MediPen?
The MediPen device has more needles than our previous device – 16 needles to be exact! In addition, these needles operate at a faster oscillation rate per second than the original Dermapen. In fact, as the device glides over your skin, the MediPen creates 1,920 fine channels per second – that's a lot of channels incited to generate new collagen!
MediPen is Australian owned and made. Plus, it's TGA Approved, meaning that the Therapeutic Goods Administration has rigorously assessed the device to guarantee it is safe, regulated, and achieves results.
How can Microneedling help your skin concerns?
Whilst also increasing the production of normal woven collagen (HELLO fresh, supple skin!), our MediPen Microneedling device treats skin concerns such as pigmentation, acne, diffused redness, enlarged pores, signs of ageing, scarring, and stretch marks.
Given Microneedling isn't light or heat related, we can treat conditions like sun damage, melasma, and post-inflammatory hyper pigmentation. We can also treat acne by creating channels for light and air to reach where the bacteria has formed (the P.Acne bacteria hates it!), restricting a breading environment for more to form. These concerns are found in the base layer of the epidermis (outer most layer of the skin). Your skin will have an inflammatory response post treatment, so it's likely that your skin will appear red and feel warm.
Diffused redness and skin texture concerns including enlarged pores, signs of ageing, scarring, and stretch marks are in the dermis (the layer underneath the epidermis). The dermis is made up of collagen and elastin fibres, and blood. Therefore, to treat these deeper concerns, a wound healing response is required, meaning that it's totally normal to see blood during your treatment.
Microneedling works wonders for skin rejuvenation!
When it comes to how many Microneedling treatments you'll require, generalised skin rejuvenation can be achieved in as little as four treatments. Deeper conditions, such as scarring and stretch marks, may require a minimum of five sessions. Depending on what condition is being treated, treatments are performed on average every four to six weeks.
If you're looking to rev up your collagen production with our new MediPen Microneedling device or simply wish to chat through your skin concerns, our experienced skin technicians are here to help.
Contact your nearest SILK clinic to book your Microneedling appointment or free skin consultation.