If you're curious about Microneedling and all its rejuvenating glory, but a little intimidated about those tiny needles reaching under your skin's surface, we've got the perfect starter treatment for you!
Enter SILK's latest standalone treatment – Skin Infusion.
You might be familiar with the skin infusion, our gentle, effective and popular skin booster. It infuses a targeted serum via a micro-needle tip handset into the first few layers of the skin.
If you are looking to ease yourself into microneedling and achieve next level skin hydration, skin infusion is the treatment for you.
What is skin infusion?
SILK's infusion treatment delivers high grade serums into the epidermis (the outermost later of the skin). It gets the active ingredients into the skin, faster and deeper than if you just applied them to the skin's surface, and in doing so, improves the overall appearance of the skin. Select infusions can target key concerns including acne, dehydration, pigmentation, fine lines and enlarged pores.
How does it work?
Unlike microneedling which penetrates deeper into the dermis (the thick layer of skin under the epidermis), skin infusion is less-invasive, only reaching as far as the epidermis. It is administered via a handset with teeny-tiny needles. The handset moves across the skin, delivering the serum via the freshly created pathways, reaching under the skin's surface, resulting in smoother and healthier skin.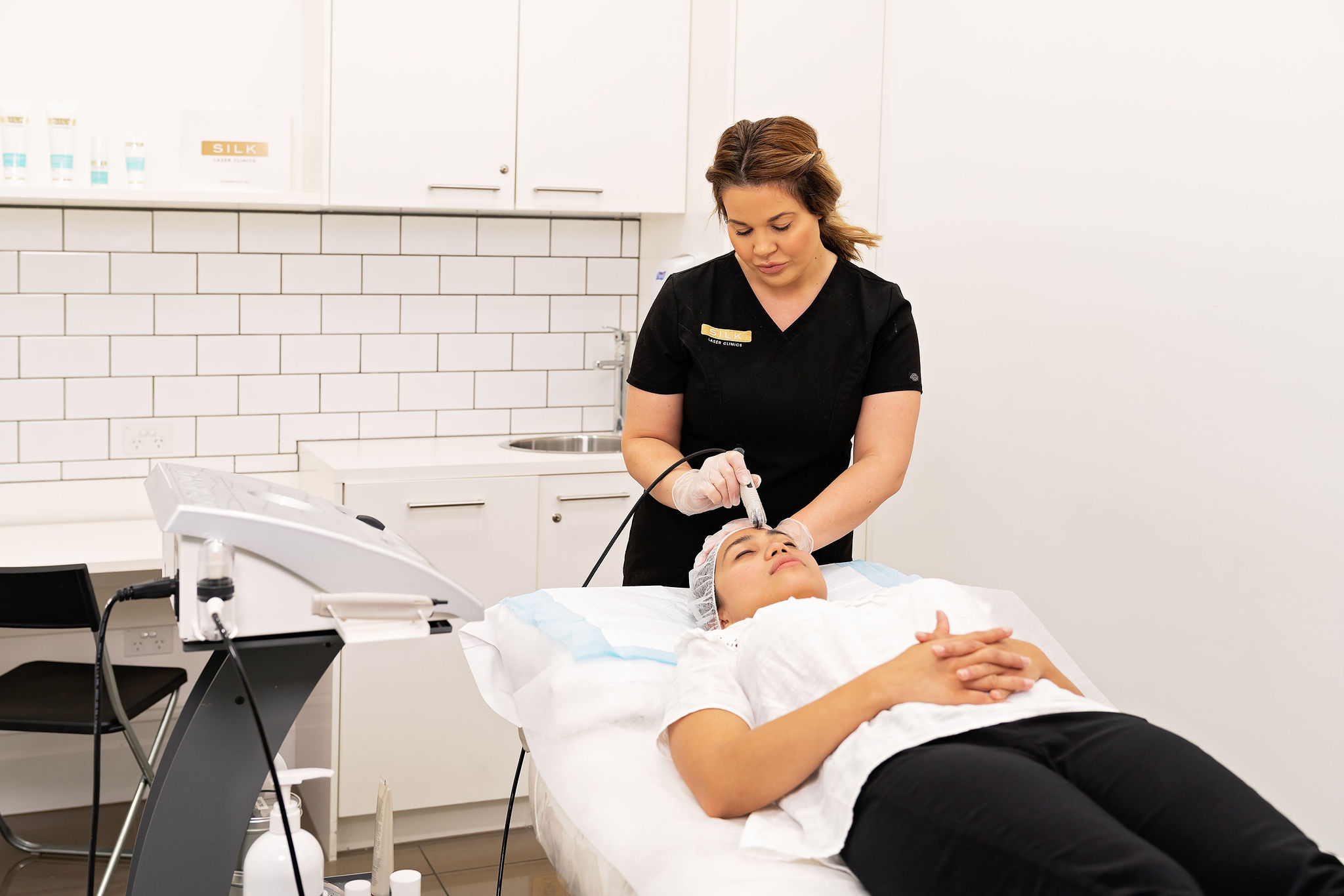 What skin concerns can infusion treat?
Skin infusion is super versatile! It's suitable for a range of concerns and all skin types. At SILK Laser Clinics, we have four serums to choose from:
Hydrate
As the name indicates, this serum is for ultimate hydration. It uses hyaluronic acid to ensure that water makes its way into the deeper layers of the skin. This instantly improves skin moisture and plumps the face. This serum also includes vitamin A to accelerate cell turnover and stimulate new skin, vitamin E for UV resistance, and skin-calming antioxidants such as green tea, white tea and grape seed. 
Acne
Great for those with breakouts and pimples, featuring two key active ingredients; salicylic acid and lactic acid. Salicylic acid neutralises bacteria within the pores, reducing breakouts and pore blockages. Lactic acid exfoliates the skin, increasing collagen to minimise fine lines and wrinkles, and reducing blackheads and whiteheads. When teamed with LED blue light, it's the ultimate acne buster!
Pigment
This serum uses kojic acid to reduce pigmentation and prevent the skin producing melanin. It's a natural, effective lightening ingredient used to brighten and even the skin. By suppressing pigment activity, it's ideal for clients suffering melasma (post pregnancy pigment) and hyper-pigmentation.
Rejuvenate
Featuring five active ingredients, this serum is dubbed the super cocktail of anti-ageing. The key peptides work to improve fine lines and wrinkles, and firm the skin, for a more youthful complexion. In addition to treating the face, it's particularly great when used on the neck and decolletage.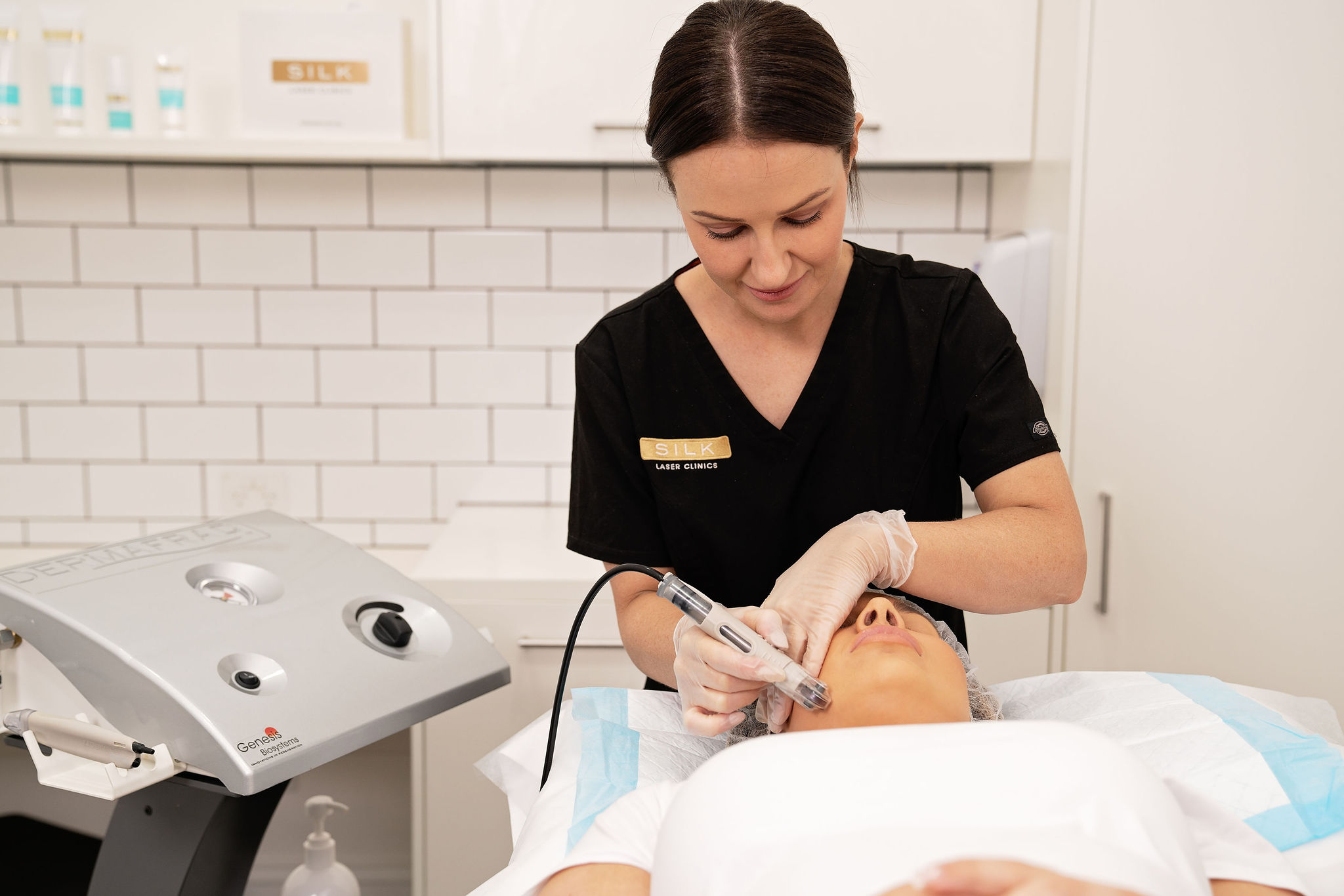 How long does infusion take?
Infusion treatment takes 20 minutes – the right amount of time for a cheeky lunchtime visit to SILK! Treatment includes a double cleanse, skin preparation, serums, hydrators and SPF.
Does infusion hurt? What is the downtime?
Infusion is a pain-free treatment with little to no downtime. It's very comfortable. The handset delivers a subtle sensation as it moves over the face. You'll walk away from your treatment, with a plumper, hydrated face, featuring a pink glow.
How often should I treat my face to infusion?
The Hydrate infusion is a great addition to your ongoing skin routine. As for targeted skin infusions such as Acne, Pigment and Rejuvenate, we recommend you start with a course of four treatments to maximise your results.
How much does infusion cost?
Infusion treatment costs $149. If you purchase four of the same treatments at once, you receive 15% off. Click here to purchase.
What other treatments at SILK could I pair the infusion with for ultimate skin health?
For enhanced results, it's beneficial to team your infusion with another skin treatment. We suggest pairing your infusion with a microdermabrasion. The micro comes first, removing dead skin cells, allowing the infusion serum to reach further under the skin. For optimum goodness, you could also pair your infusion with LED Rejuvenate, LED Acne, 3D Mask or the Exfoliating Peel.
As you can tell, we're pretty excited about the now-standalone Skin Infusion, and we think you and your face will be too! Whether you aim to improve your dehydrated skin, premature ageing or pigmentation, experience the benefits for yourself at your nearest SILK Laser Clinics.