After two children, I thought I had experienced it all: pregnancy, breastfeeding, sleep deprivation and the joy of lots of cuddles. But little did I know my third baby would bring a new challenge. While creating a family is rewarding, my pregnancy caused diastasis recti, a common condition that happens as a result of pregnancy where the left and right abdominal muscles widen, leaving a bulge in the stomach.
My doctor explained that some women experience this relatively common condition where the stomach muscles weaken and separate during or after pregnancy. Abdominal separation usually gets better within the first eight weeks after birth however, for me, this was not the case.
If you have experienced diastasis recti, you may have noticed a visible pouch in your lower abdomen, pelvic pain or softness and a jelly-like feeling in your stomach. Abdominal separation can impact your daily life as it can be painful when walking, exercising, picking up children or doing minor activities around the house.
I had 8cm of separation and boy did I notice it! Before this, I was extremely fit and active and played touch rugby and did a HIIT class each week. Running after little children is also a huge part of my day – I'm pretty much never off my feet! So when I was diagnosed with diastasis recti – it was challenging. I noticed I would be tired after just a few hours of standing throughout the day making my previously active lifestyle a thing of the past. Being a Mum can mean you become time-poor, and while it is a rewarding experience, my fitness is so integral to my physical and mental health I wasn't prepared to sacrifice this. I had looked into surgery and was trying to assess all my options. So when I heard that my local SILK Laser Clinics at Norwood offered EMSCULPT, which is proven to improve abdominal separation – I thought I would be silly not to give it a go.
I booked a free consultation and my body expert Michelle explained exactly how EMSCULPT works, by using HIFEM (high-intensity focused electromagnetic energy) technology to build muscle and burn fat. I didn't realise all the other benefits including developing strong core muscles, improving posture, reducing abdominal muscle separation (tick!) and increasing your fat metabolism – not to mention toning! I liked that she took the time to understand my needs and body goals and personalised my treatment to this. She explained that one session of EMSCULPT is the equivalent of 20,000 crunches in 30 minutes. Now I may love fitness but not even I could do that on my own. While I was specifically looking to improve my abdominal separation, I was also excited to see an improvement in my core strength too.
EMSCULPT is done in four quick 30-min sessions completed at least 48 hours apart. We decided to book two sessions in the first week and two in the second week which were very easy to work around with the kids. After answering some basic health questions, assessing my suitability for treatment and taking my 'before' photos, we went straight into treatment! I had been told to wear active wear during my appointment and was surprised that I didn't need to take any clothes off during the session. I felt super comfortable and unjudged during the whole process which eased my mind. I was able to completely relax and unwind which is something to savour in my Mum Life! While I was expecting the treatment to be painful, I honestly barely noticed it. The sensation was odd and there was a purring noise coming from the machine but it was pretty relaxing. You're not allowed your phone or any electric devices so it was a nice way to switch off completely. I wish I could stay on the machine longer! It feels so rewarding to do something for me that will also benefit my family life too.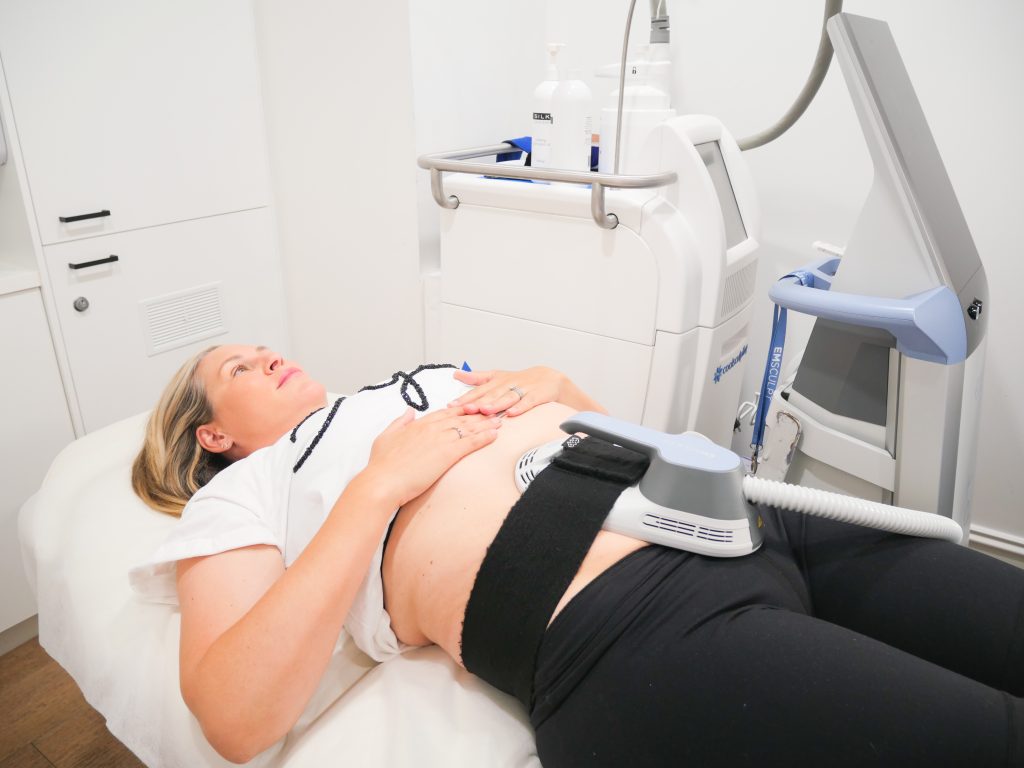 30 minutes flew by and Michelle explained my post-treatment care and I was on my way. My next three sessions went pretty much the same and after my fourth, I was ready to start seeing some results! I had a GP appointment booked and asked them to measure the separation and I couldn't believe it, I only had 5 cm of separation! I had improved by 3 cm already! While I was surprised at the numbers, I knew I'd felt a difference in my day-to-day activities. I didn't notice any pain or exhaustion picking up or chasing after the kids, and I felt stronger and fitter than before. EMSCULPT has given me the strength and confidence to get back into physical activity and I'm finally back on the touch footy field!
I went back to speak with Michelle to speak about my news and she advised me ongoing maintenance will help improve my results. While I still have a bit to go until I'm doing a HIIT work out again – I am thrilled by the results. I feel so healthy, fit and confident. I am so grateful to have found a treatment that did what it said it would without going under the knife. I appreciate that maintaining a good exercise regime will be important but I feel I've given my body a kick start.
If you're interested in body sculpting, book a free consultation with our expert body team today!